Today, Plano Mayor Harry LaRosiliere has called an impromptu press conference to address a Facebook post made by a Plano City Council member. The press conference is at 2 p.m. today and we'll be updating this post with his comments at that point. The council member in question is Tom Harrison, Place 7.
Update: Plano Mayor Harry LaRosiliere has called for the immediate resignation of Plano City Council member Tom Harrison. Read more, here.
Unfortunately, Tom Harrison, pictured below, has proven two things today:
1. If you've got a public Facebook account, think before you post and spare the rest of us your baser thoughts.
2. Local elections are important, people.
The post in question is a video from Joined Hands Across America For Trump. I would share it, but I don't want them getting any more traffic than they already have. Here's the post in question, which I took a screenshot of.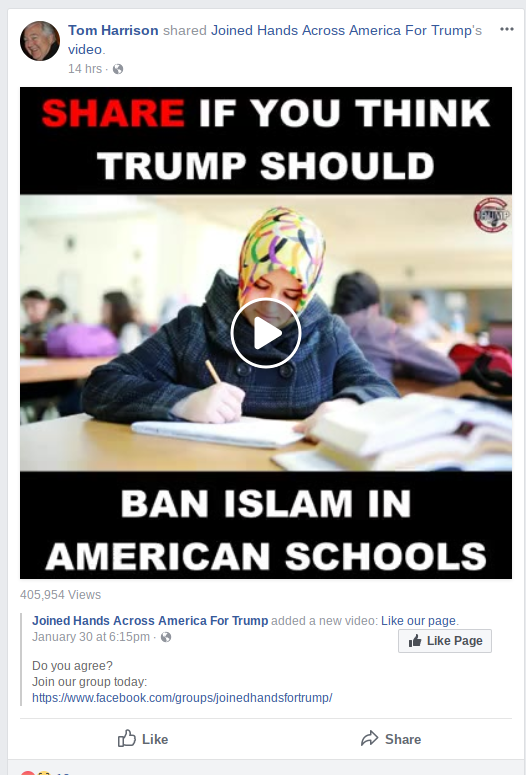 The people who saw it first were immediately enraged. Lynn Gienger wrote, "This is disgusting behavior from an elected official," tagging Mayor Harry LaRosiliere. Lynn's quick action is actually the reason why there's a press conference in the first place. Zulikha Hussain very kindly reminded Tom Harrison that one can't ban Isalm in schools. She wrote: "Freedom of religion is a constitutional right in America! Last I checked we were still in America … hence, there is no need to conduct a poll or necessary to have a debate about religious freedom here!"
Saadia Ahmed shared the video, saying, "Not acceptable in the Plano I grew up in and where my nephews are being raised! I know Harry LaRosiliere and the other councilmembers will not put up with this kind of hatred being shared by their fellow council member Tom Harrison."
Thank you, Saadia, Zulikha and Lynn. You guys are the real heroes here.
Read more: Unwelcome Home- Refugees working hard in America
Here's the thing. Regardless of national politics or which bumper sticker is on your car, no one is above the U.S. Constitution. It's there to prevent any one individual stripping the rights of any other individual. It's the greatest thing we have going for us. So as a resident of Plano, it's highly discouraging to see one of my city council members showing such utter disregard for the U.S. Constitution. Come on. I'd hoped we were better than that. And on a personal note, I'm pissed off because now I have to get on my political soapbox and anyone who knows me knows I hate talking politics.
So can Islam be banned in schools?
No. Of course not. Nor should it be. The first amendment covers that, so good news! You don't have to read very far to get to this crucial bit of information: "Congress shall make no law respecting an establishment of religion, or prohibiting the free exercise thereof; or abridging the freedom of speech, or of the press; or the right of the people peaceably to assemble, and to petition the government for a redress of grievances."
Just to back it up, here's how Cornell's Legal Information Institute explains it: "The First Amendment guarantees freedoms concerning religion, expression, assembly, and the right to petition. It forbids Congress from both promoting one religion over others and also restricting an individual's religious practices. It guarantees freedom of expression by prohibiting Congress from restricting the press or the rights of individuals to speak freely. It also guarantees the right of citizens to assemble peaceably and to petition their government."
Trump can't ban Islam for schools. I hope that Joined Hands Across America For Trump get a second look at the Constitution. It protects them too.
As for Tom Harrison, if you'd like to call or email him with your concerns, just visit plano.gov. And if not, well, this is an election year. If you want to make your voice heard, just #Vote2018. Go ahead, check out some of the other candidates vying for seats in Collin County.
I will now descend from my soapbox.
Read more: Plano Mayor calls for councilman's resignation after racist post