This year, Plano's most-wanted were a pair of stray dogs who began roaming our streets in May of 2016. Today Plano Animal Services captured one of them. Earlier today, Animal Services received a call from a resident who reported the dogs were laying down between houses. Jamey Cantrell, the Director of the the department, along with several officers approached the dogs. Cantrell was able to use a net gun to capture the Australian Cattle Dog. The other dog, a white Labrador mix, ran off and has not been captured.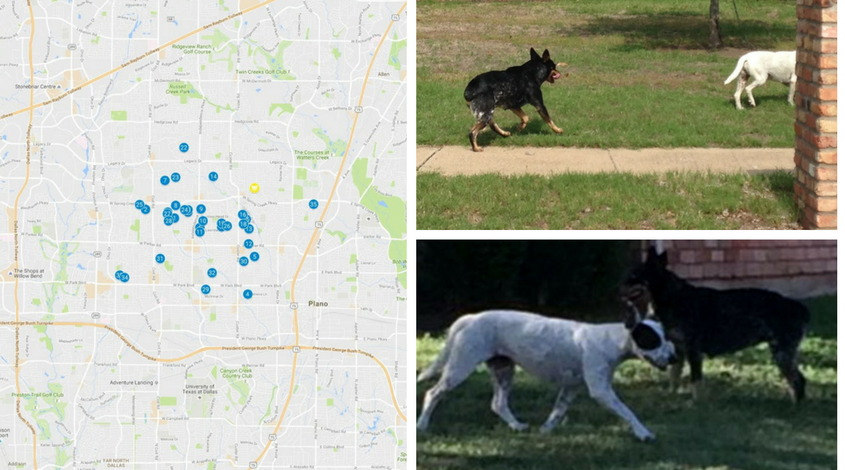 Catching this particular dog was the top priority, as it was responsible for all eight of the possible biting incidents reported, particularly a jogger who was bitten from behind in August. Australian Cattle Dogs such as this one, are bred specifically for their herding instincts and the attacks could be related to that aspect of its breeding.
Rumor has abounded about them as they have been spotted all over Plano for almost a year now. They have been named everything from "Killer Dogs," to "Those Two Loose Dogs," but widely, they're known as "Bonnie and Clyde." They have been chased by Animal Control so frequently, they'd learned to run away at the sound of Animal Control's truck. Animal Services Officers had resorted to using their own cars to try and catch the dogs off their guard.
This dog, "Bonnie" is at Animal Services where she is under evaluation and where, hopefully, she can be safely rehabilitated. Keep a lookout for the remaining lab mix, Clyde. Please do not feed or approach the dog, but call Animal Services.
Animal Services: (972) 769-4360 | plano.gov/194/Animal-Services