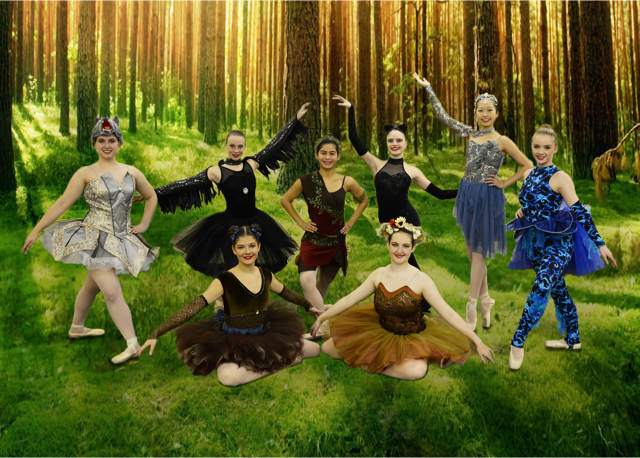 There are some things which always stand the test of time. Ballet is one of them, The Plano Metropolitan Ballet is another. This Plano institution is this year celebrating it's 30th anniversary–a achievement they are commemorating with with an original production of The Jungle Book.
Under the artistic direction of Cindi Lawrence Hanson, this enchanting performance opened last weekend but will continue to enthrall audiences throughout January at the Courtyard Theatre in downtown Plano. A limited number of tickets are still available, see below for details.
Some principal cast members include: Stephanie Yamauchi (Mowgli), Hannah Beaudreu (Baghera), Addie Howell (Racksha), Scarlett Walls (Kaa), Phoebe Salas (Baloo), Amanda LaPorte (Queen Loui), Jenny Zhu (Effie), and professional dancers, Ruben Gerding (Shere Khan), and Tagir Galimov (Akeela).
The story opens as animals dance in the jungle. Suddenly, Baghera, the panther, finds a basket containing a human baby. Careful to hide this treasure from the man-eating tiger, Shere Khan, Baghera hands the baby over to Akeela to be raised by the wolves. Mowgli grows up with the wolves, including Akeela, the pack leader, and Racksha, the den mother. However, Shere Khan eventually discovers Mowgli, prompting Baghera to usher the child to a village to be among other humans. There Mowgli discovers fire, called the Red Flower. Queen Loui of the monkeys also is enamored with the Red Flower, feeling it will make her the most powerful animal in the jungle. Later, Mowgli separates from Baghera and encounters the snake, Kaa, who cannot determine whether Mowgli is a friend—or food. Fortunately, the jovial bear, Baloo, dashes to the rescue. Along the way, Mowgli also becomes acquainted with Effie and the majestic elephants. Over time, Mowgli has various encounters with Queen Loui, who still desires the Red Flower, and she saves Baloo from a hive of buzzing honey bees. But always lurking is Shere Khan, who finally finds Mowgli. Aided by a jungle-full of loyal animals who wish to protect her, Mowgli escapes from Shere Khan once and for all and realizes that the jungle is truly her home.
THE JUNGLE BOOK
Where: Courtyard Theatre | 1509 H Ave., Plano, Texas
When:
Performances –
• Friday, January 6 | 7 p.m.
• Saturday, January 7 | 7 p.m.
• Saturday, January 14 | 3 p.m.
• Saturday, January 21 | 3 and 7 p.m.
Girl Scout Performances –
• Saturday, January 7 | 3 p.m.
• Friday, January 13 | 7 p.m.
• Saturday, January 14 | 7 p.m.
• Friday, January 20 | 7 p.m.
Tickets: $16, available online or in person at Gotta Dance | 3131 Custer Rd., Suite 195, Plano, Texas
Plano Metropolitan Ballet
A not-for-profit ballet company, the Plano Metropolitan Ballet (PMB) puts on performances in Plano, Texas, every year. Founded in 1987, the PMB is under the artistic direction of Cindi Lawrence Hanson, who has been in the position since 1998. The PMB brings in instructors to give "master" classes, and guest artists provide inspiration to company members.