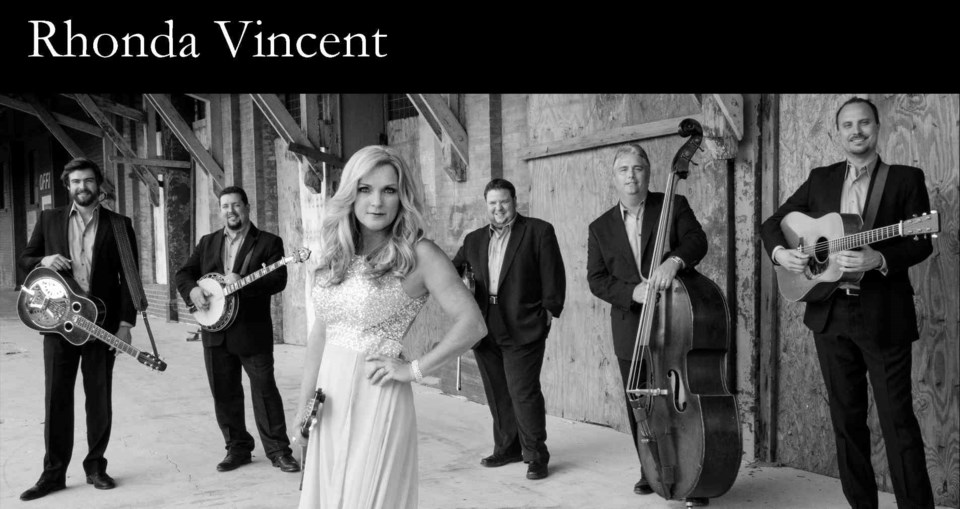 World-class musicians and an award-winning singer join on stage to host a one-of-a-kind performance that is sure to feel home to bluegrass lovers across the metroplex!
Designer gown and stiletto heel-wearin' Rhonda Vincent and a highly celebrated bluegrass band, The Rage, who together have won over 80 awards, will take McKinney Performing Arts Center (MPAC) Courtroom Theater by storm on Saturday, January 23. Vincent leads her band with amazing vocals and breakneck mandolin playing, while her five-piece band backs her up with instruments including a fiddle, dobro, upright bass, banjo and whatever other instrument a song is lacking. The group tour an exciting 12 months a year with a mix of music that incorporates savvy contemporary styles, while tying in the authentic traditions of classic bluegrass and classic country. With all that practice and live performances, no wonder the singer-songwriter and multi-instrumentalist, Vincent, was famously crowned as "The New Queen of Bluegrass" by the Wall Street Journal.
Over the years, Vincent has worked with people such as Dolly Parton and Gene Watson, performed at the Grand Ole Opry over 100 times and on Late Night with David Letterman and Conan. She has been admired in publications including People, USA Today, The New York Times and O-The Oprah Magazine. In 2015, she released her album "Only Me" featuring Willie Nelson on the title track, which was nominated for Best Bluegrass Album at the Grammy Awards. Also, in 2015, Vincent won Female Vocalist of the Year by the International Bluegrass Music Association.
RHONDA VINCENT & THE RAGE
When: Saturday, January 23, 8–10 p.m.
Where: McKinney Performing Arts Center – Courtroom Theatre, 111 N. Tennessee St., McKinney, Texas
Cost: Purchase online at MPAC
Children/Students (ages 6-22): $19
Seniors (65+): $31
Adults: $36
McKinney Performing Arts Center (MPAC)
MPAC is a multi-purpose facility available for special events or meetings. With a variety of rooms for rent at a flexible cost, it's sure to make any event historic. The theater in the historic Collin County Courthouse seats 427 for live entertainment including off-Broadway, comedy, theater and concerts.