The 14th Annual SANTA FE DAYS in the Park is a fun, family-friendly event featuring two days of interactive festivities for the whole community. Celebrating Native American Indian culture through jewelry, crafts, dance, music, food, games, seminars, story-telling and hands-on teaching from respected educators.
This nonprofit event is brought to you by the Indigenous Institute of the Americas. Santa Fe Days features over 70 American Indian artists from at least 40 nations. The event is the only authentic Native American Indian art market in North Texas and features unique, handmade crafts designed from the knowledge of their ancestors. Patrons come back year after year to see the beautiful Championship Pow Wow dancers and Mitotiliztli Yaoyollohtli Aztec dancers from the Dallas Ft. Worth community. Master of Ceremonies, Bows and Arrows Radio celebrity, Harold Rogers (Navajo/Diné) will once again complement the fantastic voice of Head Singer, Lance Tahchawwickah (Comanche/Nʉmʉnʉʉ) and Host Drum -STR8 South.
Read more: Color Run Hero Tour at Dallas Fairpark
SANTA FE DAYS: 2018 featured artists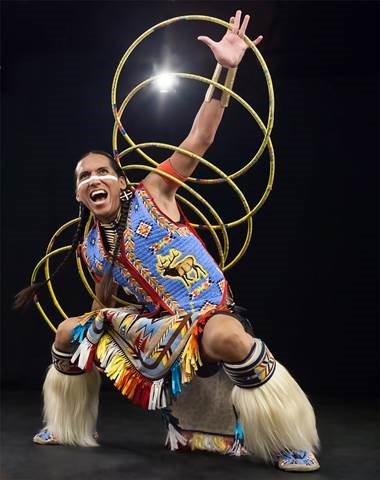 Tony Duncan (San Carlos Apache, Arikara, Hidatsa)
Internationally recognized Canyon Records flute player
Composer and winner of the 2013 Native Artist of the Year award by the Native American Music Awards
Five-time World Championship Hoop Dancer
Violet Duncan (Plains Cree and Taino),
1st runner up for Miss Indian World 2012
Championship Fancy Shawl dancer
Author of two children's books, When We Dance and Hoop Dance
Violet and Tony, with their beautiful children, will lead Hoop and Fancy Shawl dance workshops, flute and dance performances as well as storytelling.
At the Courtyard Cultural Path family activity tent, Violet Duncan will be signing her books at the Native Perspectives literary exhibition and resource table. The literary exhibition will highlight children's books by Native authors. Come browse resources and ask questions about appropriate representation of Native culture in education.
"Cherish Turtle Island" is the Courtyard Cultural Path tent theme with turtle protector, herpetologist Michaela Mullen from the Curious Turtle, a non-profit education outreach for turtles and tortoises. Children will learn about the lessons Turtle brought to the Native people.
Park Gates open at 10:00am with the sound of our Aztec dancers honoring Native American Indian ancestors. Opening ceremony, Saturday, March 17, 2018, starts at 10:45am at the Santa Fe Days Entertainment Stage.
This year Santa Fe Days will present six of the best American Indian family cooks in the four-state area. Indian Tacos, Frybread, corn soup, meat pies and other traditional dishes will be available for purchase.
Sandy Lake Amusement Park is the perfect setting for all day fun. Bring your lawn chairs, ride the Sandy Lake train and enjoy the authentic sights, sounds, foods and time-honored traditions of the Native American Indian community in the heart of North Texas.
Read more: Adult-only Easter Egg Hunt at Heritage Farmstead Museum, Plano
SANTA FE DAYS, Carrollton
Saturday & Sunday, March 17-18
10 a.m. – 5:30 p.m.
Sandy Lake Amusement Park
1800 Sandy Lake Rd
Carrollton, TX 75006
Park admission: $2 per person