The Gift Shoppe at Sweet Tooth Hotel Dallas is getting even sweeter with the announcement of the artisan collaboration with Leatherology and an exclusive, limited-edition collection from fashion and lifestyle brand Kendra Scott.
The Gift Shoppe
Texas-based international fashion and lifestyle brand Kendra Scott will feature five limited-edition earring styles at The Gift Shoppe. These are curated exclusively for the Sweet Tooth Hotel.
The collection is inspired by the fun, playful Hotel experience. The designs are based on some of the brand's most popular looks. Specifically, the 5-piece earring collection will include never-before-seen gemstones and metals combinations. They will be designed in the popular Sheila, Freya, Kitty, Emmet and Diane styles.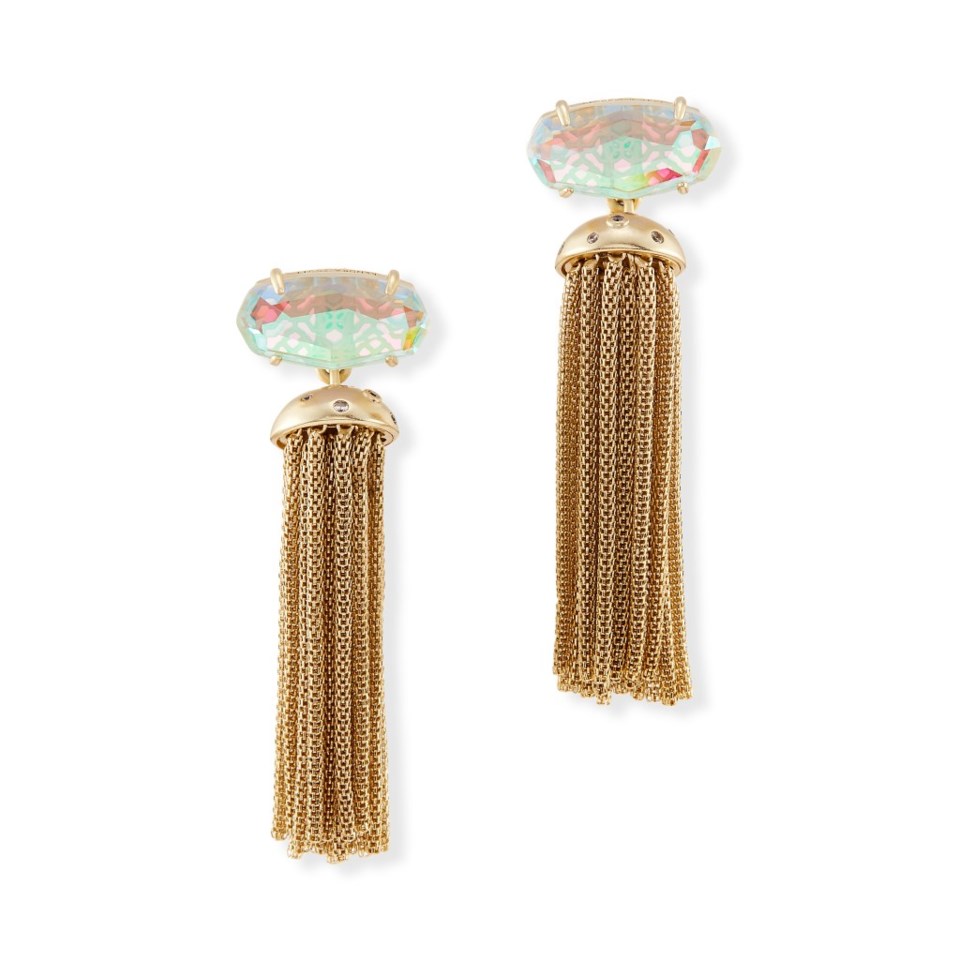 A partnership with Sweet Tooth Hotel was only natural for Dallas-based leather goods brand, Leatherology, due to their passion for artisan products and their commitment to personal style. Leatherology has partnered with artist Rob Wilson, whose work has been featured in The Wall Street Journal and Neiman Marcus, to create an artistically original display wall and limited edition hand-painted designs on exclusive items to Sweet Tooth Hotel.
Alongside these pieces, Leatherology has partnered with artists Jeremy Biggers, Shamsy Roomiani and Jojo Chuang to create one-of-a-kind hand-painted Parker Backpacks and Meadow Double Zip Camera Bags. Each of these bags has been specially curated and showcases the artist's unique flair and the quality and versatility of Leatherology.
These unique works of art will also be available for purchase online at SweetToothHotel.com beginning May 18.
Read more: Plano Girl and Fashion Model Drea Grady Gets Real
Sweet Partnerships
Sweet Tooth Hotel has partnered with Jenna Owens, co-host of The Kid Kraddick Morning Show and founder of Fitish "Fitness and Wellness for Everybody." Owens will reveal Kendra Scotts's new earring styles and exclusive pieces from Leatherology.
The backdrop of the reveal will preview an art installation created by Built By Bender and entitled, "Sprinkle Spa." The Gift Shoppe will also include curated goods from the more extensive Leatherology product line. Additionally, there will be special offerings from: Hairstory, Read Between the Lines, Valfré, Pin Stash and JOY Macarons.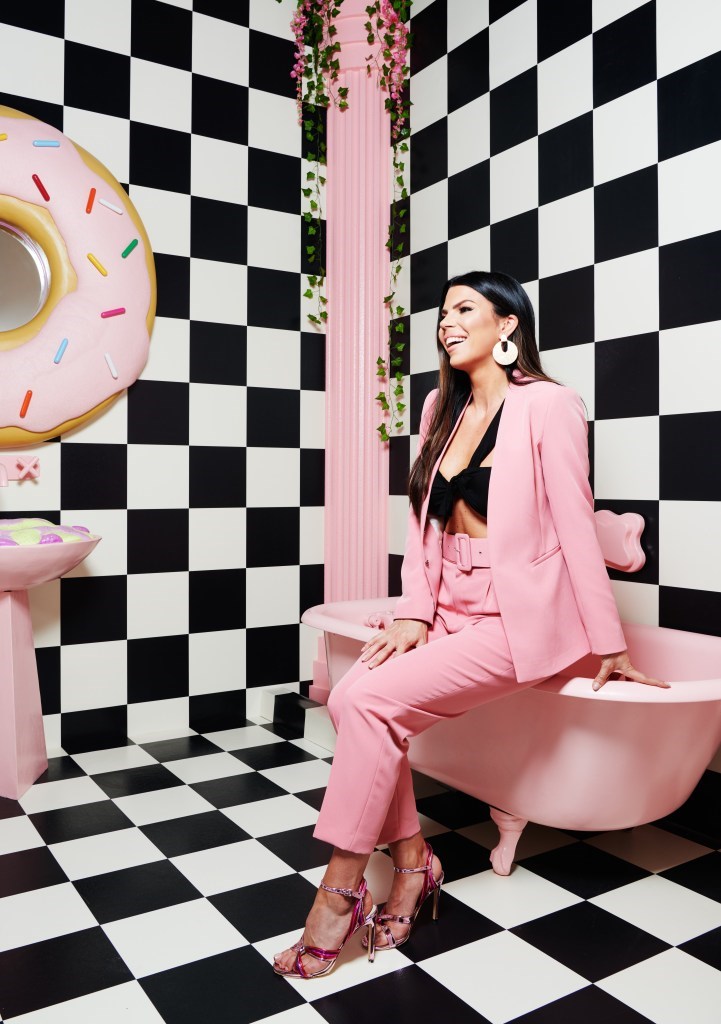 Works by artists Jeremy Biggers, Shamsy Roomiani, Jojo Chuang, Rob Wilson and Chelsea Delzell will also be on display and available for purchase.
Tickets are $20. Sweet Tooth Hotel key holder ticket is $40, which comes with a custom Leatherology keychain that unlocks special surprises throughout the hotel.
Check-ins are on the hour, 10 a.m. – 7 p.m. Private events are available beginning at 9 p.m. daily and are by reservation only for up to 20 guests. For private event pricing or to book your event, email [email protected].
For information and to buy tickets visit www.sweettoothhotel.com or text SWEET to 484848.
SWEET TOOTH HOTEL
Sweet Tooth Hotel brings together work by some of Dallas's most innovative artists and a curated selection of products and sweets to purchase in The Gift Shoppe. The Sweet Tooth Hotel is a 1,200 sq. ft. experiential art and retail pop up in Dallas, and will be open from May 18 to June 30 in Dallas's Victory Park.
Concepted by husband and wife, Cole and Jencey Keeton, Sweet Tooth Hotel delivers five sugar-themed rooms based on popular treats. Each room will be thoughtfully and artistically created by Built By Bender, a design and fabrication shop whose roster includes a variety of clients from Legacy Hall to the City of Plano.
Participating retailers are Leatherology, Kendra Scott, Hairstory, Read Between the Lines, Pin Stash in collaboration with Hatziel Flores, Valfré and JOY Macarons. A rotating selection of work from artists Jeremy Biggers, Shamsy Roomiani, Jojo Chuang, Dani Goodman, Chelsea Delzell and Rob Wilson will also be on display.
Read more: Fall for macarons at Savor Pâtisserie, McKinney
ABOUT LEATHEROLOGY
Leatherology is redefining simple, everyday luxury. Founded in 2008, Leatherology is a collection of superior quality everyday leather essentials that are colorful, timeless and simple to personalize. You will rarely see the brand logo on the front of the products. Because, the brand isn't the focus of the story— the customer is.

Leatherology wants each customer to make the items their own, through custom paint, monograms, logos, slogans or even the occasional hashtag. It has been direct-to-consumer since its inception and sells exclusively online. Hence, this allows the brand to offer the highest quality product at a truly attractive price and be the ultimate in attainable luxury.
The brand offers an extensive range of full-grain leather personal, travel, business, tech, home, gift, and daily accessories for both men and women. Leatherology sets itself apart in the market space with its extensive color options, breadth of assortment, personalization options, and overall quality.
Furthermore, they strive to bring delight by making thoughtful gift giving easy. Leatherology is here to help people celebrate, thank, and share memories with its products. Additionally, they are all delivered in beautiful gift packaging.
ABOUT KENDRA SCOTT
Kendra Scott is an international fashion and lifestyle brand based in Austin, TX, inspired by the personal experiences, travel, and sense of community of its founder and designer, Kendra Scott.
Since designing her first collection in 2002, the company has grown from a $500 project into a billion-dollar fashion brand with over 2,000 employees and a rapidly growing international footprint.
As the company continues to grow, Kendra continues to lead with three core values: Family, Fashion and Philanthropy. These beliefs are creating a brand and culture that authentically values making a positive difference in the community.