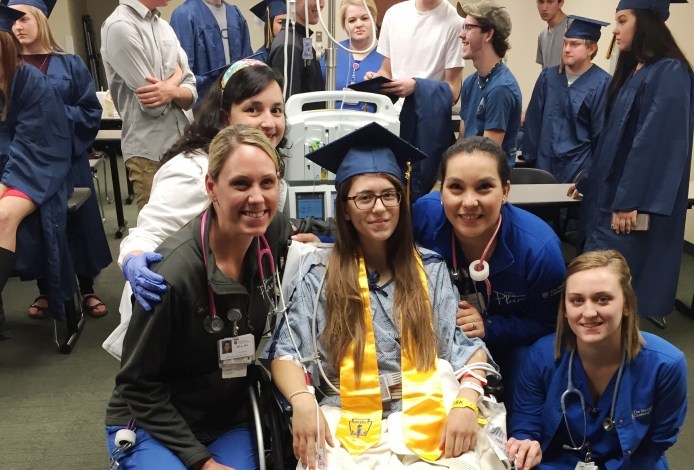 Julianne Ennis is a senior at Canyon Creek Christian Academy (CCCA) and current Intensive Care Unit patient at The Medical Center of Plano (MCP). She, of course, was planning on graduating with the rest of her class but was unable to be discharged from ICU.
Friday, May 13 Julianne went on a senior trip with classmates to the lake where she was struck by a jet ski.
Friends visiting Julianne informed the MCP team that she'd be missing this once-in-a-lifetime landmark. MCP quickly put on their thinking caps and orchestrated a graduation ceremony in the late afternoon of Thursday, May 19. The graduate was dressed in cap and gown and was wheeled to recieve her diploma in the hospital. Classmates and staff from the Richardson-based CCCA, along with nurses, hospital staff and Julianne's family were all in attendance.
"Staff here at The Medical Center of Plano was great to allow us to come up here and include all of the seniors so Julianne could feel part of it," says Adam Miller, head of school at Canyon Creek Christian Academy. "And I know she felt really special and honored today."
"I am proud to be a part of a team that care for patients beyond their physical needs," says Charles Gressle, CEO of The Medical Center of Plano. "Small actions, such as a graduation ceremony for a high school senior, are the elements that significantly impact a patient's healing and experience while at The Medical Center of Plano."
Julianne's classmates will be graduating from CCCA Friday, May 20.
Take a look at this video by MCP: