In 1978, one week into his law enforcement career, Jim Skinner, a 19-year-old in a fresh uniform, buried his friend and fellow officer Carl Levine. He had been shot on duty by a fugitive child rapist from Louisiana. Today, Sheriff Skinner traces the course of his entire career back to that single, deadly tragedy.
"It had a profound impact on me," he says. "I swore then that I would pursue a life of service in the law, and that I would do everything I could to protect the innocent and pursue those who prey on others."
Jim Skinner was elected sheriff of Collin County in November 2016, and he made the headlines this May busting up a child pornography ring, the culmination of an investigation dubbed Operation Medusa. The Collin County Sheriff's Office, Plano Police Department and the Collin County District Attorney's Office arrested 15 individuals in one day—and three more later on—including a 911 operator and the owner of a popular Plano restaurant, Poor Richard's Cafe.
News outlets nationally reported on it; a restaurant by the same name in Wyoming even put out a special Facebook message to remind people that they were unaffiliated with the restaurant in Plano. With charges including possession of and possession with the intent to promote child pornography, invasive visual recording and online solicitation of a minor, it's easy to see why all eyes are suddenly on Jim Skinner.
Operation Medusa shed light on an issue that gets under his skin like no other. Even before the operation, Skinner pledged time and time again to actively hunt down those who hurt children.
"I have too often dealt firsthand with predators who target children and the elderly and have seen the wake of destruction they leave in their paths. I will always use every tool at my disposal to pursue that evil and see justice done. If you trade in child pornography, or you come to Collin County for the purposes of hurting a child, then know that we are actively hunting for you. Today, tomorrow and every day after. We won't stop looking for you."
Since his election Jim Skinner has sworn to maintain order and protect the constitutional rights of the people. He describes new changes, new technology and an increased demand for even greater transparency from lawmakers and enforcers. He will operate where police cannot—in the lines between city jurisdictions—working with a budget of $48 million and a staff of 518.
A police officer answers to the city government and the police chief. A sheriff answers only to the people. As one of those people, I'd like to know—and I doubt I'm alone—who he is underneath the hype.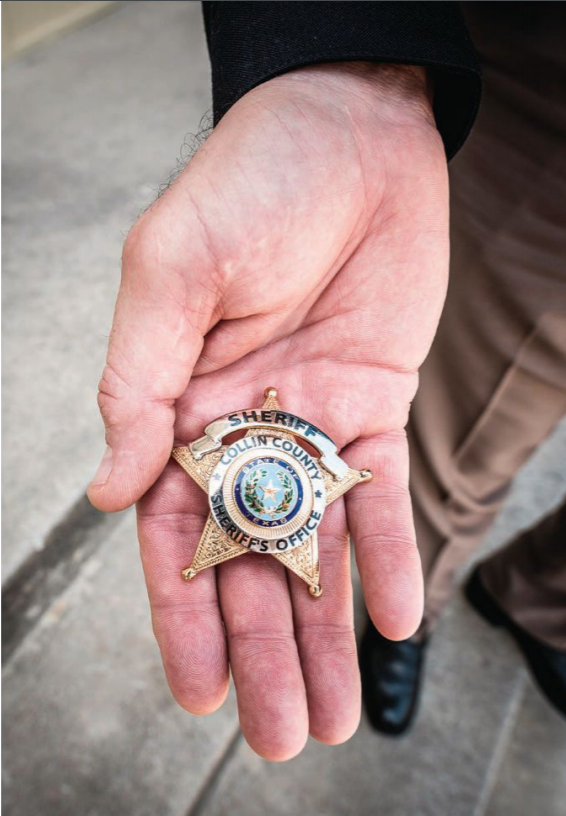 "Why on earth do you want to do a story about me?" Skinner asks on the steps of the old courthouse in downtown McKinney. Decked out in a long-sleeved uniform and a white ten-gallon hat despite the heat, he cuts an impressive figure. He has the square, stern profile of a soldier, an armed forces veteran and a SWAT team leader and operator. Despite his obvious friendliness, you probably don't want to mess with him.
Skinner describes himself in three words: "Honest, principled, persistent." He waves to passersby and jokes that people are probably wondering what the crazy sheriff is doing out in the hot sun getting his picture taken.
He exemplifies and defies the stereotype of a Texas sheriff. In his downtime he enjoys hobbies like volunteering as a crew chief on a Vietnam-era "Huey" helicopter and visiting the gun range to shoot targets 1,000 yards out with high-power rifles. He's probably pretty comfortable on horseback. The sheriff star looks natural pinned on his shirt and, of course, there's his Texas twang.
But on the other hand, he originally aspired to be an oceanographer. He's congenial enough that his intelligence flies almost under the radar. He reminisces far more about the children he's met on the job and what made them smile, than the darkness he encounters every day. He's a dog person with two Jack Russell Terriers that he calls his "kids at home". One of them, Woody, inspects the county jail—population 1,044—with him weekly, paying personal visits to inmates who have gone a week without disciplinary problems.
"They all enjoy watching him work a basketball over," Skinner adds. "I've got hardened inmates making each other behave so they can see my dog."
Skinner got his start in law enforcement navigating the hard-boiled world of narcotics, white-collar crime, corruption and homicide. He left after 18 years, choosing to earn a law degree from the University of Houston Law Center. In 2007, he became an Assistant District Attorney and Special Prosecutor for the Collin County Criminal District Attorney's Office.
A year later, after running an investigation into public corruption crimes, the Collin County District Attorney asked him to prosecute a sitting criminal district attorney, Galen Ray Sumrow, in Rockwall County for theft and other charges.
In an article that appeared in The Prosecutor Magazine, Skinner and his colleagues wrote: "Right after 'Yes, sir' leaves your mouth, you wonder where this assignment might lead you…we seem to have become desensitized to hearing about yet another corrupt politician. But this time it was different. It was one of us—not only an elected official, but a man who swore to uphold the Constitution, seek justice and prosecute those who break the law."
Taking on the district attorney meant prosecuting an expert who was well-versed in using the law as both sword and shield. Skinner might respect the person holding office—and the office itself—but clearly not more than he respects the law. He led the investigation, resulting in a guilty verdict, a 15-year prison sentence and the crushing downfall of a respected government official.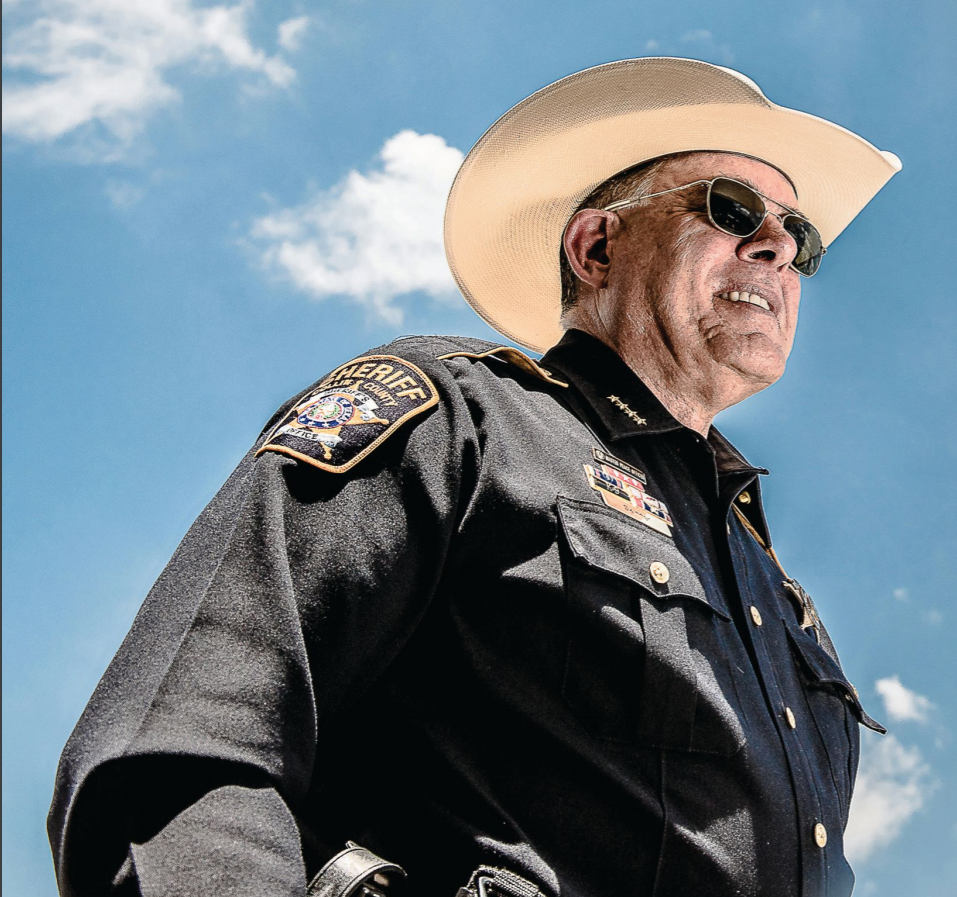 It was the precarious nature of trials like this one that still influences him today. Having seen the law abused from both the prosecutor's table and the police car, he has a unique dual perspective on the inner workings of justice. He admits freely that he demands a higher standard for his deputy sheriffs because he knows firsthand how easy it can be for someone in a position of power to wriggle out of justice. He analyzes all of his office's operations from a legal and liability standpoint, expecting his deputies to "present extremely thorough criminal investigations to the District Attorney." According to Jim Skinner, they exceed his high standards "each and every time."
"I was troubled knowing that we live in a time when too many public officials willingly ignore the rule of law," he explains, and the conversation turns to his run for the sheriff's badge. He knew that if he ran for Collin County Sheriff and won, he could do the job right. He'd lived the law and knew the issues the county faced and as the old adage says, if you want to see something done right, do it yourself. Skinner did it himself, driven by his unrelenting faith in justice and his duty.
"Justice means different things to different folks," he admits. "I also know that for some it's a hard concept to even define, much less accept. I have seen instances where I thought that justice was as simple as good prevailing over evil. But, I suppose justice is really fairness, or setting things back to normal, or at least what our society decides is normal." As for duty, he hasn't wavered from the course he set himself on at 19.
Jim Skinner has a lot to prove over the next four years as Collin County's sheriff. He came thundering out of the gate with Operation Medusa and now plans to make the Collin County Sheriff's office the most professional and competent sheriff's office in the United States. This isn't without its difficulties; he expects that the county-wide population boom will bring a twin increase in the population of the county jail and in the work the sheriff's department has to do. He is proposing increased numbers and incentives for deputies and is confident that the county commissioner's office will work with him to make it happen.
The best summary of his goal for his term as sheriff came towards the end of our interview, and it's pretty simple: "You set yourself between evil and innocent folks."
Sheriff Jim Skinner is an old-fashioned badass. He doesn't get going when the going gets tough, but weathers the storm. He's probably one of Collin County's last true cowboys. He's sheriff and, bad guys, he's coming after you.