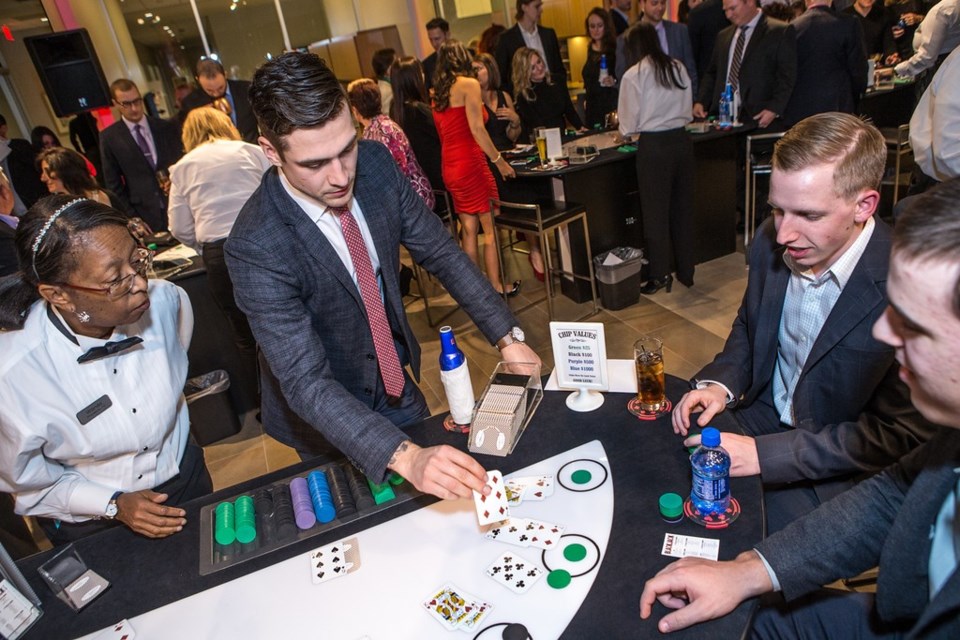 Jamie Benn, Tyler Seguin, Jason Demers—Oh, my!
The Dallas Stars Foundation hosted the 17th Annual Casino Night at Park Place Lexus in Plano. Hundreds of guests went dressed in their best cocktail attire for a night of charitable fun, where over $300,000 was raised!
This year's theme, "Fire and Ice." DJ S.O.U.L.Jah and violinist Sharla Marie Franklin with their new project Thedjvsviolin kept it hot on the dance floor, while the Dallas Stars players and ice girls kept things cool with their attitudes.
However, Thedjvsviolin weren't the only ones entertaining guests. Dallas Stars players walked around chatting it up with everyone, they stepped in as dealers at the casino tables and even served drinks to attendees. Dallas Stars coaches, front office, staff members and personalities could also be seen serving as casino dealers.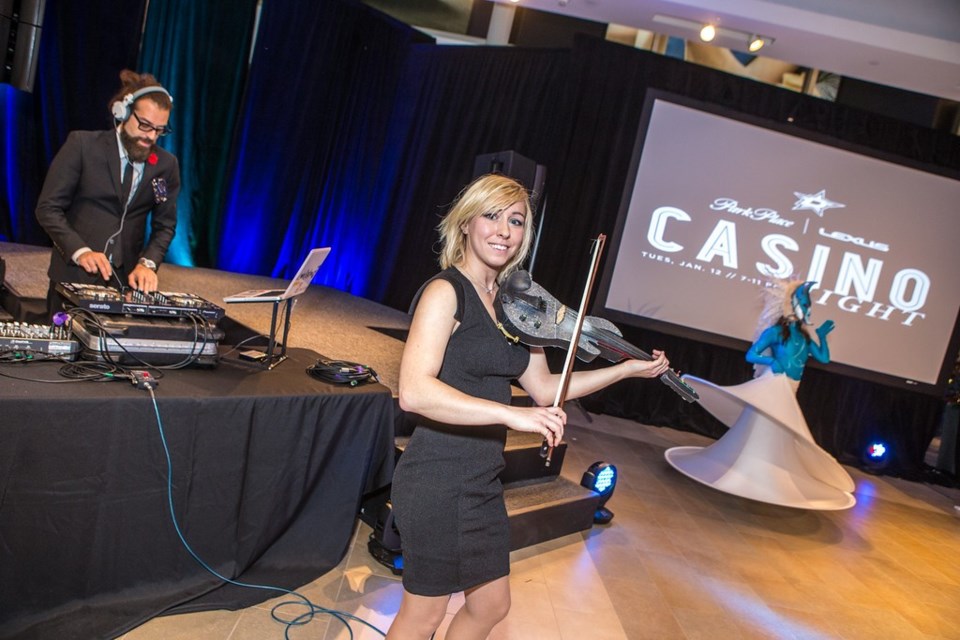 Unlimited Finlandia vodka, several types of Jack Daniel's whiskey and red and white wines were poured into endless glasses. The ever-popular Diamond Bar was the place to be for perfectly made and unlimited Moscow Mules for $50, with the added bonus of a chance to win a one-carat diamond worth over $10,000 by J. Patrick Diamonds, Inc. A buffet of crab, baked mac-and-cheese, hamburger sliders and more delectable bites was provided by III Forks.
The biggest hits of the silent auction were buckets filled with the Stars players favorite things, which included a bunch of random items such as a rubber ducky and bath bomb, beer and lots of it, signed Stars apparel and tennis balls. Other silent auction items were large-framed, autographed record albums by famous artists, including Rolling Stones, T. Swift and Adele.
An amusing live auction was hosted by Daryl "Razor" Reaugh the Dallas Stars color commentator and Dave Strader the play-by-play announcer. Trips to luxurious destinations, Stars away games with a ride in the Stars bus on the way to the game and a personal dinner with the Stars Owner Tom Gaglardi and his wife that included a flight-for-two around Dallas in a private plane all drew a high interest from the crowd.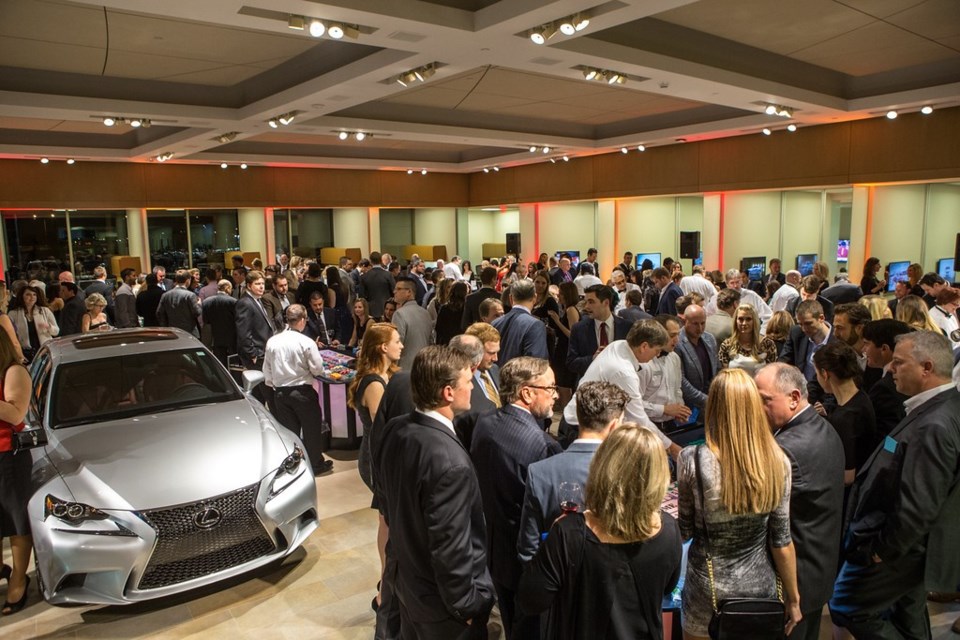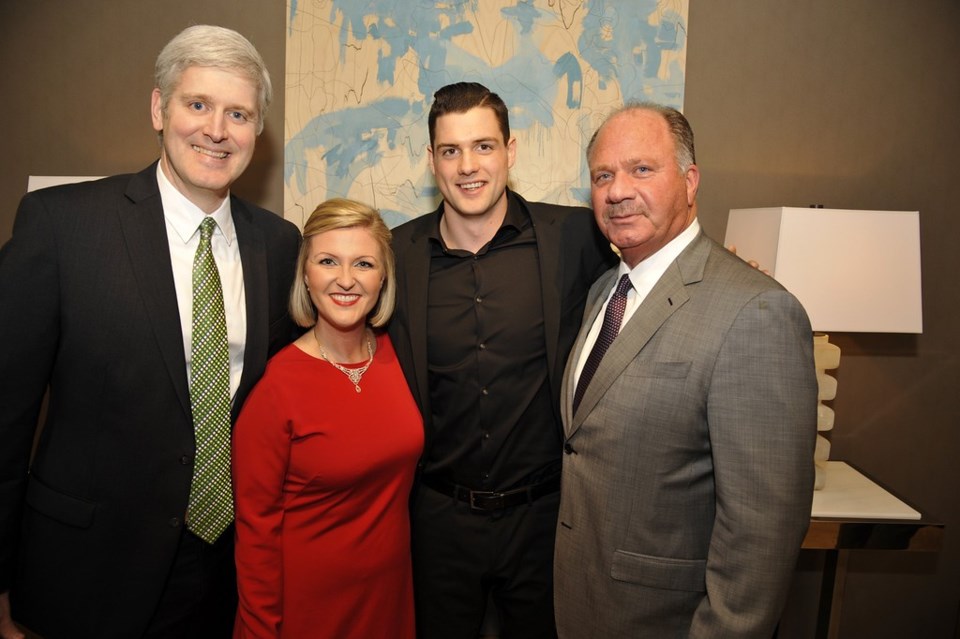 Food, fun and fancy times were had, all in the name of giving back. Casino Night is the largest annual fundraiser for the Dallas Stars Foundation due to the fact that all proceeds go to the foundation and that it's the most attended event. "Every year our players, coaches and Stars family have Casino Night circled on their calendar as a really fun night to help the Dallas Stars Foundation raise much needed monies to fund its youth scholarships, annual playground build, grants to our nonprofit partners, and school-based programs like Stick with Reading and Fitness Stars," Dallas Stars Executive Vice President, Chief Operating Officer and Dallas Stars Foundation President Jason Farris said.
For $250 a ticket, keep next year's Casino Night on radar.
Photos by David Alvey
A fun fact from the night: One man with an amazing amount of luck took home two giveaway prizes. Every Moscow Mule copper cup had a number attached to it, and his number was drawn to win the one-carat diamond. Also, A Lexus displayed in the middle of the main room had a trunk full of packaged mints and the point was to guess how many mints there were and the person with the closest guess would win a weekend to test drive the Lexus. He won that too. Congratulations, mystery man!
Dallas Stars Foundation
The Dallas Stars Foundation was established to serve as a positive force throughout the Dallas/Fort Worth Metroplex. The Foundation focuses its efforts on providing support to the children of the community so they may lead quality lives and develop into contributing members of society. Through teamwork, interaction, and education, the Dallas Stars Foundation works to bring together all members of the Metroplex and build a bright future for today's youth.