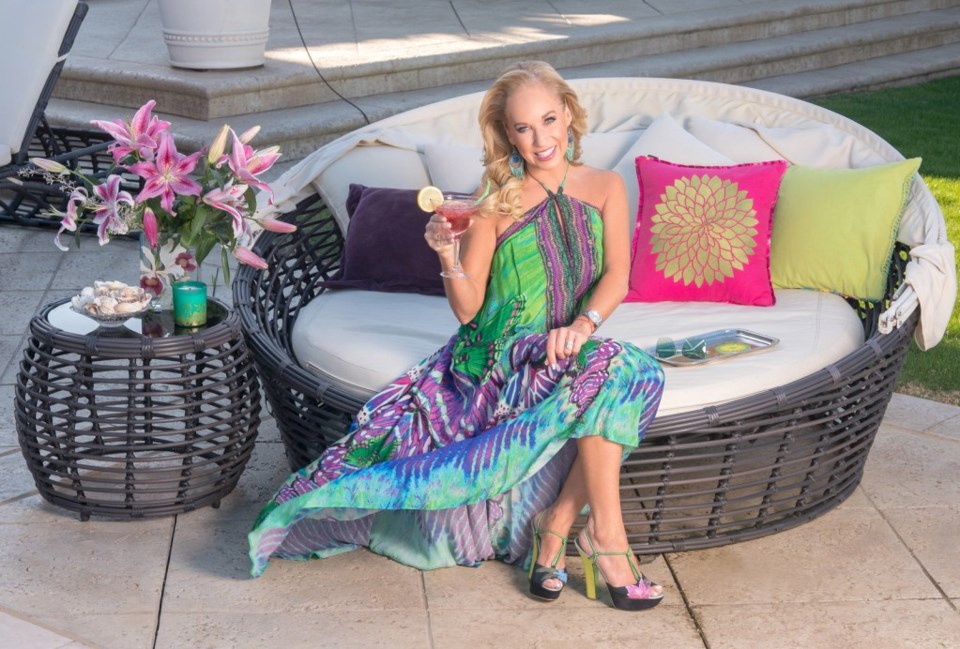 Linda Cooper is the Host and Executive Producer of the luxury lifestyle travel series, Travel Time with Linda, which just finished airing its second reruns on the AXS TV Network and is available to binge-watch on Amazon Prime in both the US and the UK. Linda grew up in Los Angeles, the city of dreams, and got her B.A. in broadcasting. She has spent years in the TV industry, and even as a kid, she knew that she wanted to work in front of the camera, but not as an actor. It's almost as if Travel Time With Linda was fated to happen. Linda's passion for travel led to the creation of the show, and even after two seasons, she says that she "pinches [herself] in amazement that [she] was able to pull it off".
Linda says that as a lifestyle TV host, she has always featured what interests her and has gravitated towards two main topics: shopping and travel. She created "Shopping Is My Cardio" and "Travel Time With Linda", which both initially aired locally in Dallas. But then, Linda says she decided to "really go for it and devote an entire show to travel to air on a national platform".
When asked what she misses about California, Linda replied with: "The beach. It's my favorite place in the whole entire world… I find the sounds of waves crashing and the smell of ocean air so intoxicating. My feet in the sand is where I feel the most grounded and it's the best place to meditate." She says that Dallas's only downfall is that it doesn't have a beach, and now whenever she travels, she always "steals time away to find [her] zen on a beach".
Linda has a soft spot in her heart for South Africa. Her husband grew up there, and they took a family trip back to the country when her kids were in high school to see her husband's roots. They visited Johannesburg, where Linda's husband was born, and Cape Town, where he vacationed each year with his family growing up. Linda's family also visited the safari, which she cites as being awesome until, within 24 hours, her eyes had swollen shut. That's how she realized she was allergic to grass-thatched roofs. Linda says she "wore big oversized sunglasses for the remainder of [their] safari adventure", which was "not [her] most glamorous look". However, she's glad she found out before filming her travels on TV!
Read more: The art of travel according to ARTA Travel
Linda's favorite "magical hidden gem" is also from the same family trip to Africa. They visited Zambia and Victoria Falls, where Linda first experienced a 360-degree circular rainbow. She says it was "pure magic and a truly miraculous sight".
Travel Time With Linda is currently in production of its second season, which is set to air in spring 2019. The first season takes the viewer "Caribbean Dreaming" and features exotic destinations. In Season Two, Linda chose to focus on "Bucket-List Destinations". She tells me that her crew actually just finished filming in Ireland for two episodes. She also recently won the 2018 Telly Award for Season One of Travel Time With Linda. How exciting!
Travel Time With Linda is a global show, both in its content, and its viewers. The show airs in Asia on TVB Network and on OSN Living Channel throughout the entire Middle East. Pantaflix has also just picked up the series to air in Germany. Wherever you are, Linda's love for her job is sure to translate through the screen. "I feel truly blessed to have found 'my passion, my calling' in life," Linda says. "I don't take it for granted ever, and [I] live my life with an 'attitude of gratitude'. It sounds corny, but it's true."
If you are in the US (which most of you probably are) and have Prime, here's the LINK to watch Season One of Travel Time with Linda today.
Read more: Q&A: Singer/songwriter Sarah Jaffe at Legacy Hall