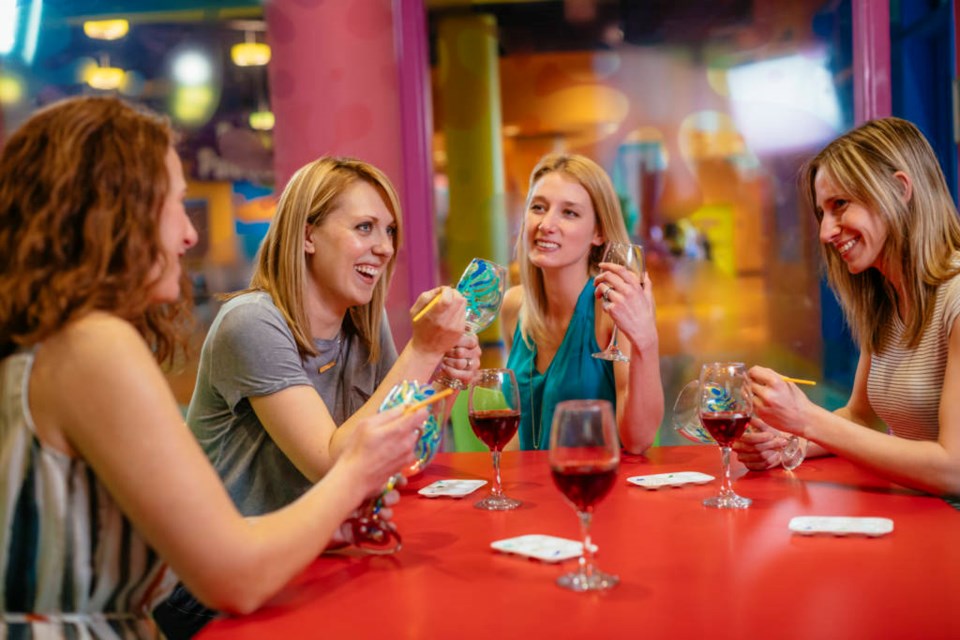 The Crayola Experience Plano at The Shops at Willow Bend has quickly become one of Plano's most popular kids attractions … but it's fun for adults too. The 60,000 square-foot concept which includes 22 hands-on activities opens on select nights for a fun adults-only event called "Crayola After Dark". Wine is included.
The next Crayola After Dark is slated for August 17 from 7 to 10 p.m. and is in the style of a "craft and sip" event in which participants will make a Paisley Vase to take home with them. Tickets also include food, two glasses of wine, DJ, photos with a Crayola Character and even "playtime in the attraction".
Tickets for this "night of colorful fun" are just $39.99 per person and annual season ticket holders get a 10% discount.
Read more- Day in Fort Worth: arts and culture where the West begins
Crayola After Dark at Crayola Experience Plano
When: August 17, 7-10 p.m.
Where: Crayola Experience Plano, The Shops at Willow Bend
Tickets: $39.99 per person and annual season ticket holders get a 10% discount
Buy tickets: crayolaexperience.com/plano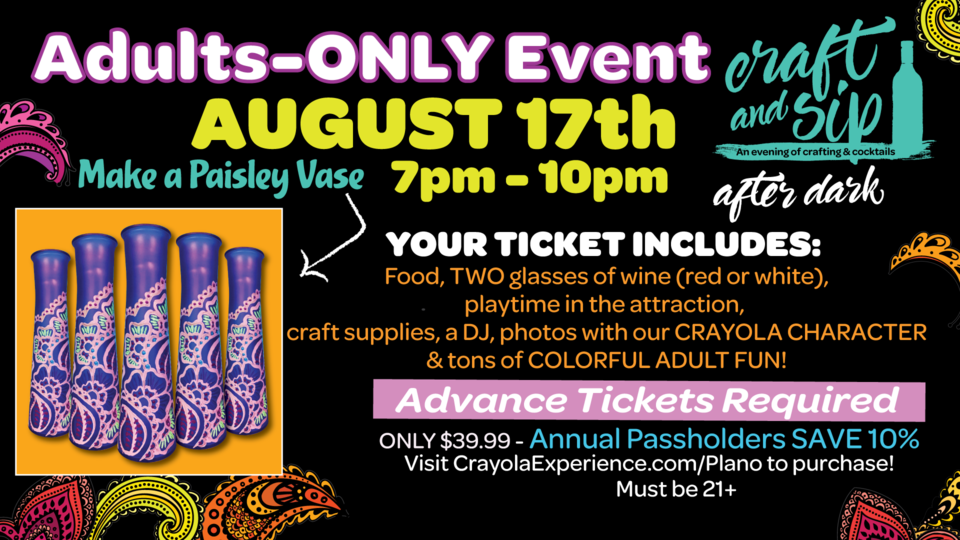 Crayola Experience Plano
Crayola Experience Plano will feature 22 hands-on attractions inspired by Crayola products and technologies. Guests can do things such as name and wrap their own Crayola crayon (Wrap It Up!), star in a coloring page (Be a Star), create melted wax spin-art (Drip Art) and learn how crayons are made in a live Factory Show. There also will be two new attractions that debut in Texas – Silly Selfies and Kaleidoscope.
The attraction will be open 365 days a year and also will host private events, group trips and birthday parties. General admission is $20.99 at the door or $18.99 online. Annual Passes are $30.99. Kids under three are free.
For tickets, hours and info, go to CrayolaExperience.com.
Read more: Plano Food and Wine Festival at the Shops at Willow Bend