An exciting cultural arts project is underway in downtown Plano. The ArtCentre of Plano will relocate from their current space in the Victorian Olney Davis Home on 18th Street, to the historic Saigling Home on 902 E. 16th Street, situated on a leafy street adjacent to Haggard Park.
ArtCentre's executive director Suzy Jones and supporters are thrilled at the opportunities this new venue will provide. Jones explains that since the City of Plano purchased the Saigling property from the nonprofit organization CITY House in 2012, they have been developing plans to extensively renovate and restore it to a 1926 style.
Once completed, the ArtCentre of Plano will be opened for spacious art exhibits and activities. The venue will also be available for weddings, meetings, and parties. Plus a scenic performance area will be added in the back.
Bringing the ArtCentre to the Saigling Home is a natural addition to the growing downtown arts district which includes the Courtyard Theater, Cox Building Playhouse, Interurban Railway Museum, and Haggard Park's gazebo, which is the site for Plano Community Band concerts every summer and international arts and dance festivals each year.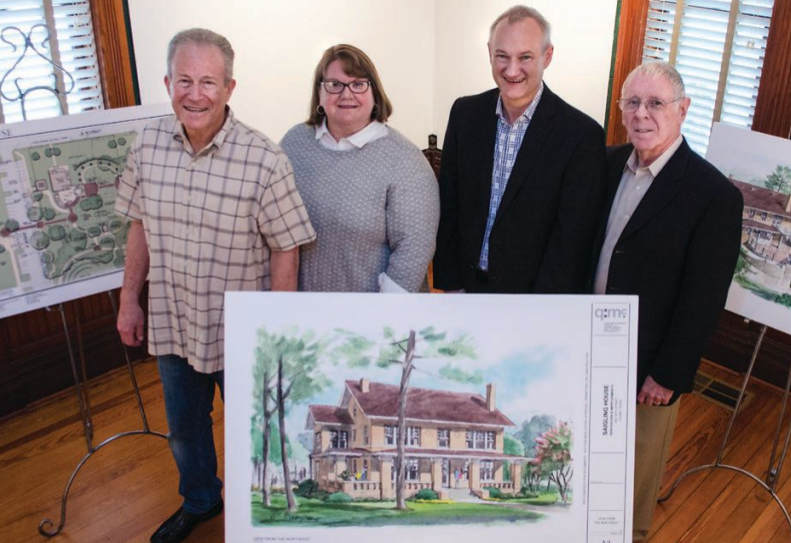 The combining of art centers and historical homes has been a proven concept in cities like Houston and New Orleans. As Jones shared with Plano Profile in 2010 when the ArtCentre opened in the historical Olney Davis House, many visitors are more comfortable viewing art in a house rather than large galleries or museums.
As she explained at that time, "Art is already at arm's length. People don't want to attend an event if they feel out of place because they don't have knowledge about it.
And art, unfortunately, just in its being, can be intimidating. I want our exhibits to be as enjoyable and accessible to people as possible.We're in a house. Who hasn't been in a house?"
The City of Plano and the ArtCentre expect construction to begin in September 2015, with substantial completion by December of 2016.
The project will cost about $3 million, which includes park improvements and full construction costs. These funds come from a variety of sources including Park Funds, Tax Increment Funds, monies redirected from the Arts Center of North Texas Performing Arts Project, and other City of Plano sources.
Jones adds that the ArtCentre will be making a $300,000 capital contribution, which they are currently raising through a $1,000,000 Capital Campaign. To donate to this project that could have a major impact on Plano's downtown cultural arts district for years to come, contact Suzy Jones at 972.423.7809 or visit www.artcentreofplano.org
Photography by Mike Newman.