Feathered fragments of soul ornament the presence of my awareness, the beautiful bliss tinge the ashes of the perished, the cold gray rocks, the ground dust, the matter that stands still before me. Without spirited wings of color, the contrast is but mundane and without the vibrancy of life.
A Himalayan rosefinch hops through the dirt. He pauses and turns his head; he stops to stare at the man behind him. The man opens his hand and the breeze lifts a fine powder out of his palm to swirl around them.
When Chet Tucker, a mortgage broker living in McKinney, turned 40 and got divorced, he decided to take a sabbatical and focus on his two great passions: photography and poetry. The result is flowtography, a new genre of art he defines as "the threading of poetry to photography." Each piece consists of a photo and a poem. "Both can stand alone," Chet explains, "but tied together they tell a different story."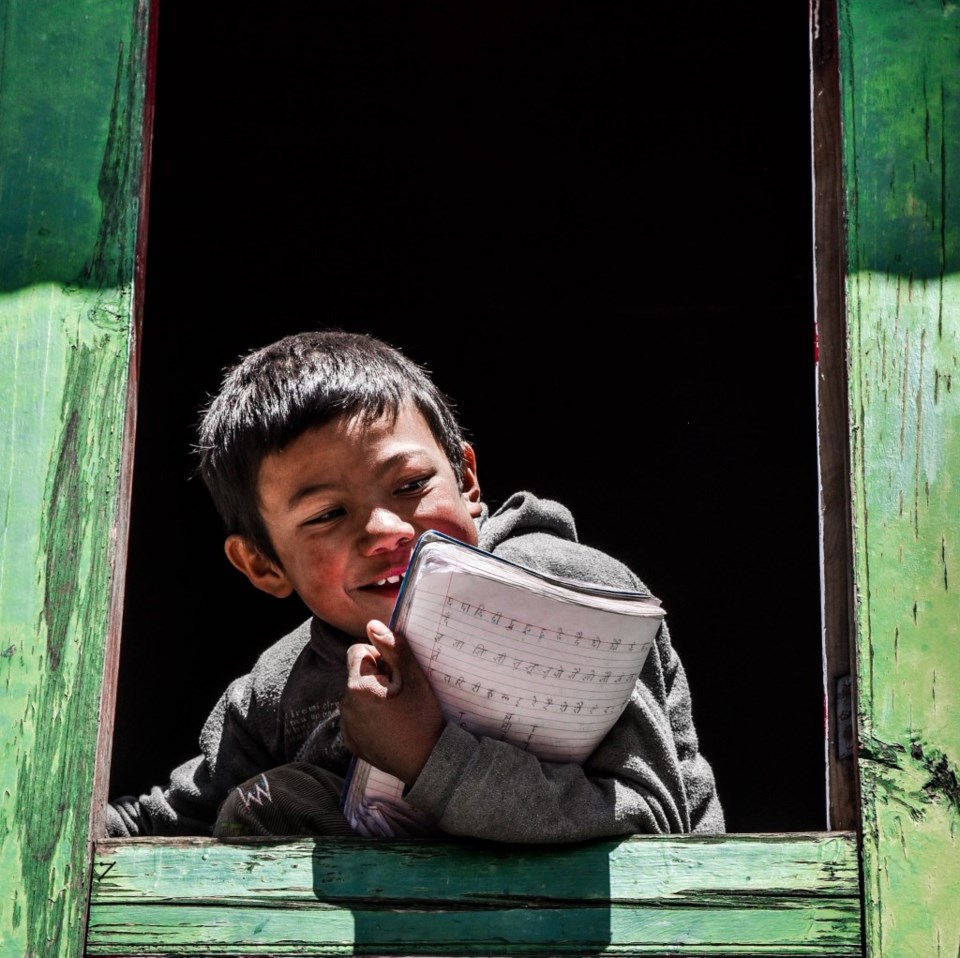 The words I'm writing on countless layers of sheets, with charcoal, with ink, with energy that only my mind repeats; they are the pieces of me that I'm learning to convey physically as I've learned to speak.
Yet, as I'm translating the streams of letters against partitioned screens, I'm losing connectivity. The striking electricity firing between you and me is blank in the eyes' soul of transparency, merely a one way street. And without a true presence of communicating with reciprocity, there is no witness to retrieve the harmony of vocabulary I'm attempting to conceive.
However, if we share in the same space where sound breathes, you can feel the happy, the melancholy, the defeat, the victory; you can clearly comprehend the language on the face you see.
Chet Tucker's Himalayan Series
Chet's first solo exhibit—presented earlier this year at the Frisco Art Gallery and recently at The Lincoln Experience at The Star in Frisco—tells the story of a 100-mile trek through the Himalayas.
Read more: David Downs Photography Exhibit To Benefit The ArtCentre of Plano
The high point of the excursion was reaching Everest Base Camp where he spread the ashes of a childhood friend, Kelly.
"He had always wanted to climb Everest," Chet explains. Kelly's favorite bird was the Himalayan rosefinch. "Seeing that bird … I believe it was Kelly." It's a moment Chet calls "Colorful Acknowledgement" and, accompanied by a touching poem, is part of his Himalayan Series.
Read more: The extraordinary photography of Gabrielle Castaneda Pruitt
For more information on Chet Tucker and Flowtography, visit the flowtography website.