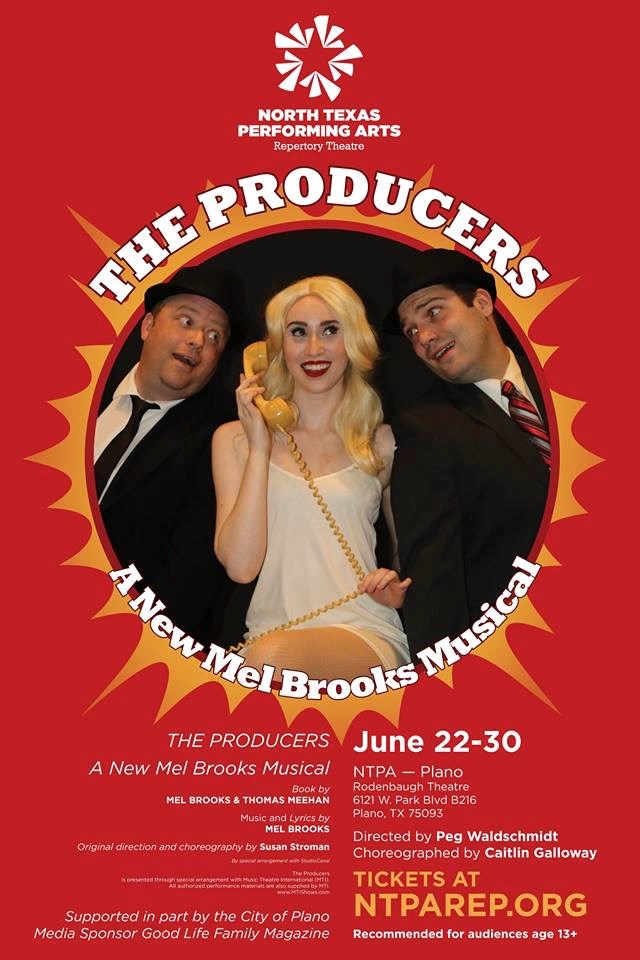 North Texas Performing Arts Repertory Theatre is thrilled to announce that we will be showing the iconic Mel Brooks musical The Producers. Performances are slated for June 22-24 and June 29-30.
The Producers opened on Broadway in 2001 and won a record-breaking twelve Tony Awards. The show closed in 2007 after wowing capacity crowds night after night with more than 2,500 performances. With a hilarious book co-written by Mel Brooks and Thomas Meehan (Annie) along with music and lyrics by Brooks, The Producers skewers Broadway traditions and takes no prisoners with its modern, outrageous, in-your-face humor.
Based on the Academy Award-winning 1968 film, The Producers is a musical comedy in which a struggling Broadway producer and his mild-mannered accountant come up with a scheme to produce the most notorious flop in history, thereby tricking their sponsors (all "little old ladies") out of millions of dollars. They set out to find the worst director, the worst script, and the worst cast imaginable. However, one thing goes awry: the show is a smash hit!
Read more: Announcing the North Texas Performing Arts Academy
NTPA's The Producers
The creative team for this production includes NTPA Repertory Theatre Program Director Daniel Dean Miranda, Director Peg Waldschmidt, Choreographer Caitlin Galloway, and Stage Manager Jessica Stevens. The cast includes veterans from the region's top professional theatres, Disney productions and graduates from some of the country's best performing arts schools.
All performances will be held in the Rodenbaugh Theatre at North Texas Performing Arts – Plano, which is located in the Willow Bend Mall at 6121 W Park Blvd. Suite B216. The recommended age for the audience is 13 and up due to mature content.
Special thanks to our media sponsor Good Life Family Magazine.
Tickets can be purchased online at ntpa.us/producers.
Friday, June 22, 2018 – 07:30 PM
Saturday, June 23, 2018 – 07:30 PM