There are few names that ring as loudly in North Texas as Nancy Nasher. The Nasher Sculpture Center is a mecca of sorts, a lavish home to the Raymond and Patsy Nasher Collection, one of the world's best collections of modern and contemporary sculpture. In the garden art meets sunlight and nature; meanwhile rotating exhibitions from international artists fill the glassy, prestigious halls. The Nashers also turned a simple cotton field into one of the top-performing shopping centers in the country, filling it with over 200 works of art such as Roy Lichtenstein's Double Glass, Barry Flanagan's Large Leaping Hare and Iván Navarro's This Land is Your Land. The building itself is a work of art designed specifically by the Nashers so that the art is displayed not merely as decorative pieces but as spotlighted stars.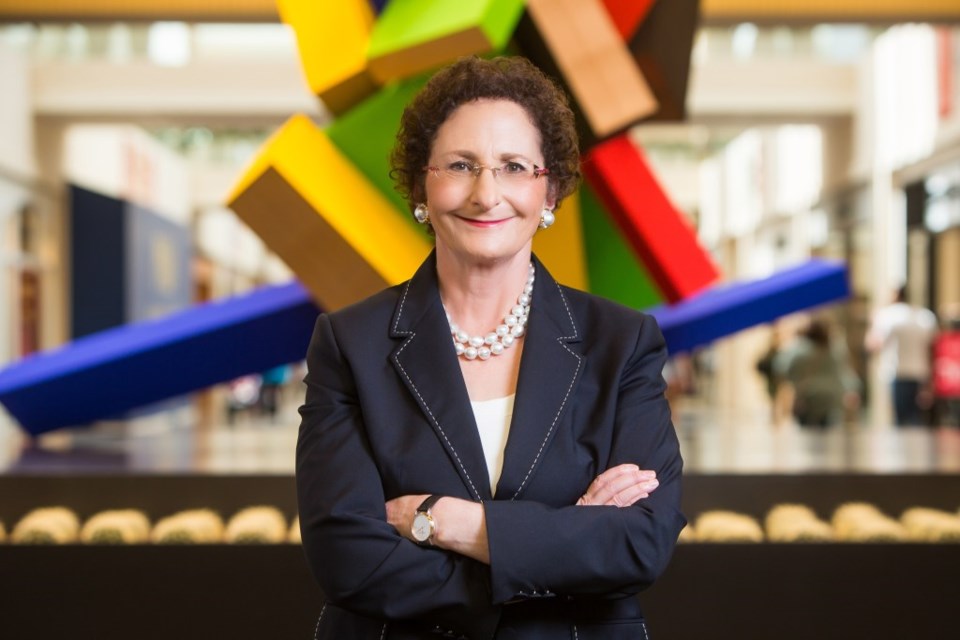 Their three daughters grew up with some of Andy Warhol's Campbell's Soup Cans on the wall of their kitchen. From an early age, art was a part of their daily lives, a key aspect of their upbringing. Today, one of the three daughters, Nancy Nasher, is a businesswoman, lawyer, art connoisseur and philanthropist. A graduate of Princeton University and Duke School of Law, Nancy Nasher has studied art history, architecture, music and American literature. She has practiced real estate and law; she is a Renaissance woman and Founder's Chair of the Business Council for the Arts. She is the full-fledged result of a family-wide love affair with the arts.
"Art has been a part of my life as far back as my memory extends," Nancy Nasher recalls. If, somehow despite school field trips and Dallas guidebooks, you haven't visited the Nasher Sculpture Center, you should. Sit in Thomas Heatherwick's Spun Chairs; walk through the shady interior of Richard Serra's My Curves Are Not Mad; imagine what it might be like to live, as Ms. Nasher must have, with Henry Moore's Three Piece No. 3: Vertebrae on one side and Bronze Crowd by Magdalena Abakanowicz on the other, priceless works of art that are old friends at this point. Her immersion in art is such that Warhol did a portrait of her as part of a series on the four Nasher women.
On a 2008 tour of the Nasher Sculpture Center with WRR Classical 101.1 FM Dallas, Ms. Nasher describes being "caked in powder," and sitting exactly as instructed while Warhol took "what seemed like 200 photos…Until he captured just the right one he wanted." She has an expert's and an insider's perspective not just on art, but on how it thrives; she is a student and disciple brought up in the inner circle, with access to artworks and the minds of artists most of us could only dream of learning from. Her legacy has been to continue her parents' work while adding her own individual streak of brilliance and business.
"The love of art was passed down to me from my mother Patsy, who was the driving force behind my parents' collection," Ms. Nasher continues. "All of my life, I was in the fortunate situation to observe her decision-making process, one that truly came from the heart, as well as a passion for research and study. Her taste and acumen for collecting art was truly groundbreaking for her time and she only acquired pieces that moved her and 'gave her butterflies.'"
Ms. Nasher, along with her husband David Haemisegger, have not only made it their business to collect art, but to display it, in the Nasher Sculpture Center, at Duke University and freely at NorthPark Center, where it is seen, enjoyed and interacted with—within reason. 20 Elements, a colorful whimsy by Joel Shapiro, was once knocked over and shattered by an enterprising toddler, just days after its arrival to NorthPark from the Musee D'Orsay in Paris. It was completely restored by Shapiro, elevated off the floor and surrounded by diminutive cacti. Yet even this hasn't changed the Nasher philosophy that rings through everything: Art is to be enjoyed and shared, not just for the sake of its beauty, but because doing so enriches the community it's found in.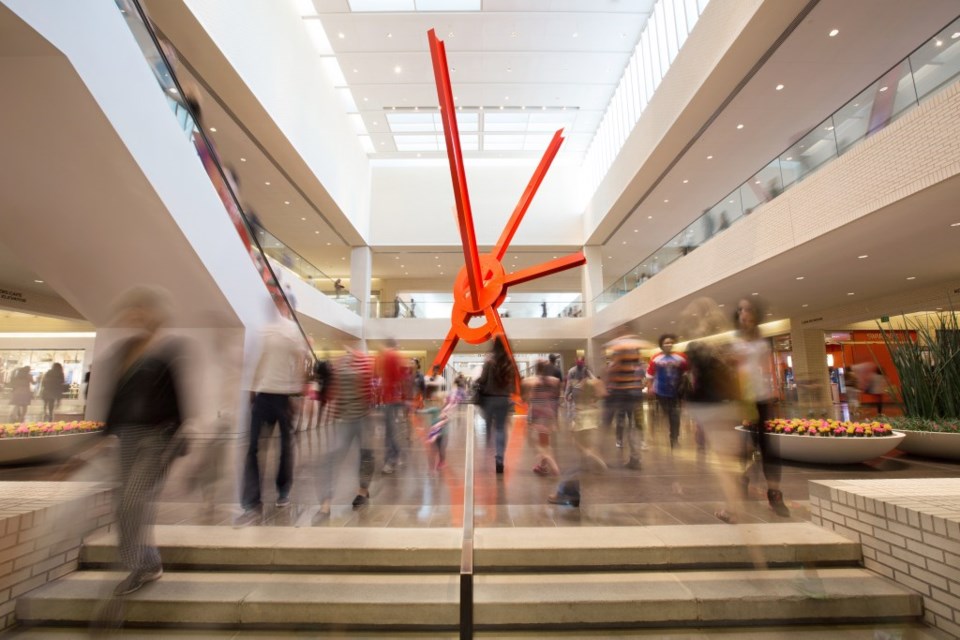 NorthPark is a testament to this philosophy. Nancy Nasher explains that for every piece that enters the shopping center, she considers how "millions of visitors can experience it in the best possible manner." Mark di Suvero's Ad Astra is perhaps the most striking example of the achieved effect. "When I read about Ad Astra in The New York Times in 2005, my husband and I immediately flew to Storm King in New York to see it." The piece is particularly close to her heart. "Our instincts were that it would be the perfect piece for the main center court of our expansion. Since it was installed by Mark di Suvero in 2006, I have immensely enjoyed seeing our visitors engage with it, walk through and around it, and view it from all directions and levels."
Forty-eight feet of painted steel, weighing 12 tons, Ad Astra climbs effortlessly into the air as if gravity is not a factor. It's a giant which towers over NorthCourt. Everyone has to pass by it and many change course just to walk under it; they gather to rest their feet on the benches around it and snap pictures for their Facebook. Ad Astra acts as a magnet, drawing viewers, fans and—in the same breath—shoppers.
Nancy Nasher and her husband didn't just want to have Ad Astra; they wanted to plant it in NorthPark, open to anyone who'd like to view and interact with it, and hopefully not climb it.
Ms. Nasher confirms it: "Placing art in public spaces has always been a priority for my family. …At NorthPark, art and commerce intersect to create powerful moments of discovery for our visitors. With over 200 pieces of unforgettable world-class art and 230 retailers, NorthPark draws in over 26 million visitors each year.
While NorthPark is her business, art is her passion; particularly, Dallas's artistic identity. Involved in numerous boards and businesses, her collection is a part of her business and business is a part of her collection, fitting for the Founder's Chair of the Business Council for the Arts (BCA), once confined to Dallas, now expanded to include Collin and Denton Counties.
The BCA's mission statement reads: "We create strong business/arts partnerships that build world-class communities where people want to live, work and grow." It's actually a lot more complicated and–frankly–a lot more fun than it appears at first blush. The BCA rests on the notion that art and music are universal languages and are the key to creating an attractive community with a thriving economy.
The BCA creates opportunities to bring art into the business world and vice versa, inviting members to several curated cultural events each year, even delivering exhibits by local artists straight to their workplaces. It's all in the name of supporting inclusion, stimulating creativity and building connections. There's a drive to coexist with art in daily life, to put it next to the coffee maker, stick it by the elevator; to embrace it like oxygen and turn to the person refilling their coffee next to you and say, "Hey, how about that?" The BCA and the Nasher family operate with faith in art's innate ability to captivate.
Developed by Raymond Nasher and Pat Porter, the BCA has worked to foster strong business/arts partnerships in Dallas for almost 30 years and the expansion to the northern counties, instigated by Chief Executive Officer Katherine Wagner, speaks volumes about just how much has begun to stir north of Big D. The inclusion is both a nod to the thriving art scenes that have been gathering momentum in Collin and Denton and a promise to boost them up.
"As Collin and Denton Counties continue to grow at a fast pace, there is a real need for businesses to educate their employees on the importance of the arts and to find ways to support their community's cultural identity," Ms. Nasher says. As more businesses and families flood Collin and Denton Counties, these newcomers will support arts which beautify the city, and arts will draw in more tourists and residents. It's a symbiotic relationship. As Collin County blazes its own trail, the BCA, with Ms. Nasher at the helm, is ideally placed to offer support.
So why the interest in Collin County?
"Collin County is truly coming into its own in terms of arts and culture. It is inspiring how businesses and enlightened city governments are fostering this development in Allen, Plano, Frisco, Richardson and McKinney," says Ms. Nasher.
She points out Watters Creek, first brought to her attention when the Allen Arts Alliance nominated the mixed-use development for an Obelisk Award, awarded every fall by the BCA to businesses who have been exemplary in their support of art and culture in North Texas. Moving west, Frisco's HALL Office Park has its own huge collection of sculptures and they've just launched an Art Walk of their own.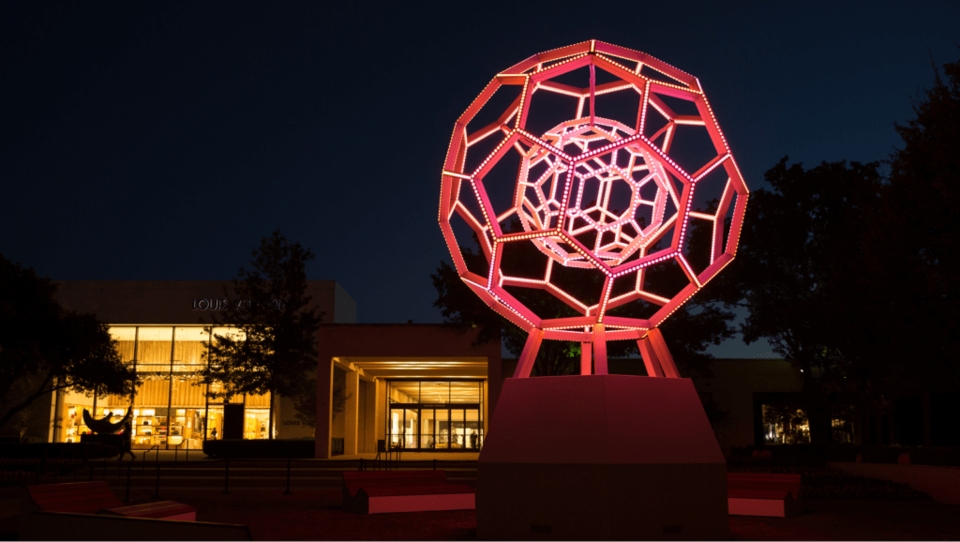 Of course, Plano has a lot to celebrate as home to the third certified Cultural District in North Texas, along with Dallas and Fort Worth. The city's arts team, headed by Michelle Hawkins, has been working to develop a strong arts district, resulting in Artfest, downtown murals, the Downtown Portal Project and more. Local artists are making a strong mark on the map for Collin County in particular, as it develops a unique cultural identity, a strong neighbor for Dallas. As more light is shed on our arts, interest grows and the region flourishes.
"I am passionate about making a long-lasting impact in the areas of art, education, and retail," Nancy Nasher goes on. "Beyond NorthPark, it is a priority for me to support the incredible institutions we are so fortunate to have here in our city—such as the Nasher Sculpture Center, Dallas Symphony Orchestra, The Dallas Opera and Dallas Museum of Art, just to name a few. These organizations are essential to the lifeblood of our great city, and I am honored to lend my support over the years."
As Dallas, Collin and Denton Counties are drawn closer together by highways, DART trains and ever increasing interest in the economic boom in North Texas, a strong art scene can define not just what we do, but who we are. It's a thrilling time to be an art lover.
For the Nashers, the arts is never just about the money. For example, NorthPark Center has never had commercial kiosks–because they dull the space and leave less room for the art. On a 2015 tour of NorthPark with Good Morning Texas' Jane McGarry, Nancy Nasher estimated that it's a decision which has probably cost them millions. Similarly, Ms. Nasher doesn't have to display art in NorthPark, sharing Ad Astra, 20 Elements and Andy Warhol's Campbell's Soup Cans with the world. But under her care, the arts are supported and allowed to shine. And the city life around them thrives.
The Nashers have harnessed the power of the arts, the "lifeblood" of the city, but no matter how large or prestigious their collection grows, there's a passion for each piece, each artist, each masterpiece, that goes far beyond financial gain. It's a business, yes, but at the end of the day it's a business built on love, built while the Nashers were chasing the butterflies in their stomachs and shared, taking in hand the occasional risk of enterprising toddlers.
There's a reason that the Dallas Arts District is the largest of its kind; there's a reason that Collin County is gaining ground while charting its own course. It's that Nasher-like love, that drive to foster and nurture arts and draw others in to be a part of it.
Learn more about the BCA at ntbca.org.