The Junior League of Collin County invites you to explore the true meaning of inclusivity with Fireside Chat between two executives from Toyota Motor North America and PepsiCo. This panel discussion is being moderated by Plano Profile and will take place at the Toyota Motor North America Headquarters in Plano.
Read more: Toyota CEO Jim Lentz considers Plano his most daring achievement
Inclusivity: "What does it mean and what is it all about?"
The aim of the discussion is to inspire, engage, and discuss cultural dynamics within our communities. As Jasmin Brand, CEO of Launch DFW said in a recent interview with Plano Profile, "I think it's important that we reinforce the idea of inclusion rather than just diversity. Equality in the workplace is not just about making sure that a person of color, or a woman, is in the room, but that they have an actual seat at the table."
Inclusivity is not about fulfilling a diversity quota; it's about making sure that everyone is included.
Adrienne Trimble, general manager of diversity and inclusiveness of Toyota North America and Merary Simeon, North America vice president of diversity and engagement for PepsiCo will discuss this important topic in a panel discussion led by Rebecca Silvestri, executive editor at Plano Profile magazine.
The event will take place at the new Toyota North America Headquarters in Plano, a vast 100 acre campus built using twelve acres of glass, 142,500 yards of concrete and 1,200 tons of Texas limestone.
Read more: Inside Toyota Motor North America
Fireside Chat with Toyota and Pepsico
Tuesday April 24, 5:30 p.m.
Toyota North America Headquarters
6565 Headquarters Drive, Plano
Tickets are very limited. Click here to register now.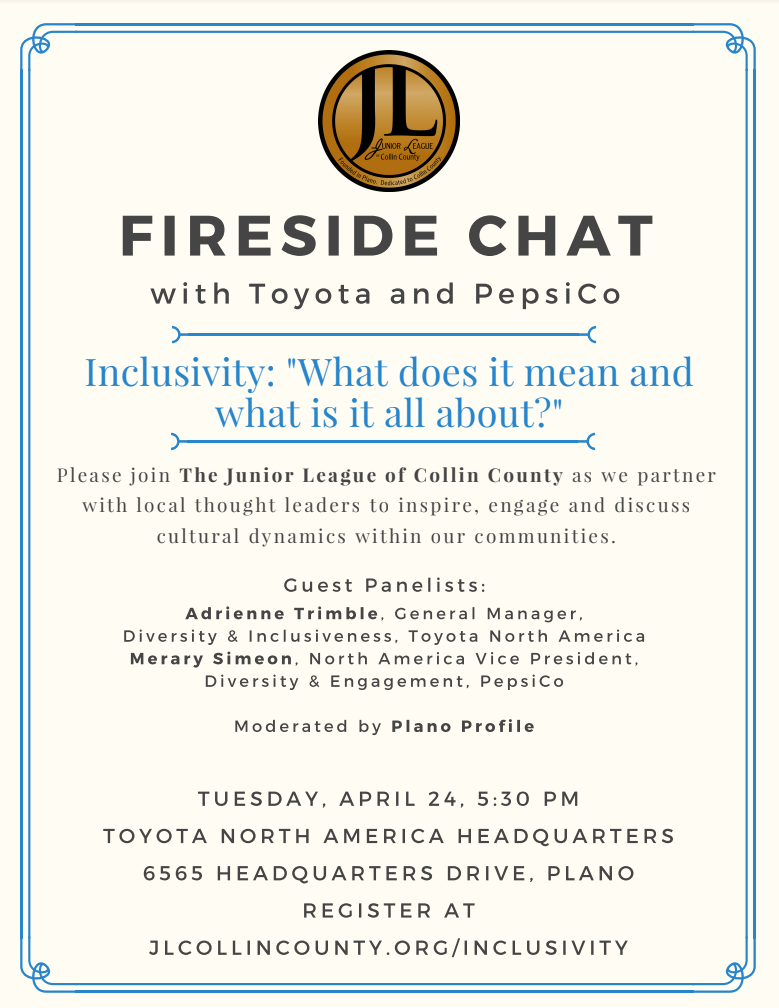 The Junior League of Collin County is a charitable organization based in Plano whose mission is to promote volunteerism, develop the potential of women, and improving the community through the effective action and leadership of trained volunteers.