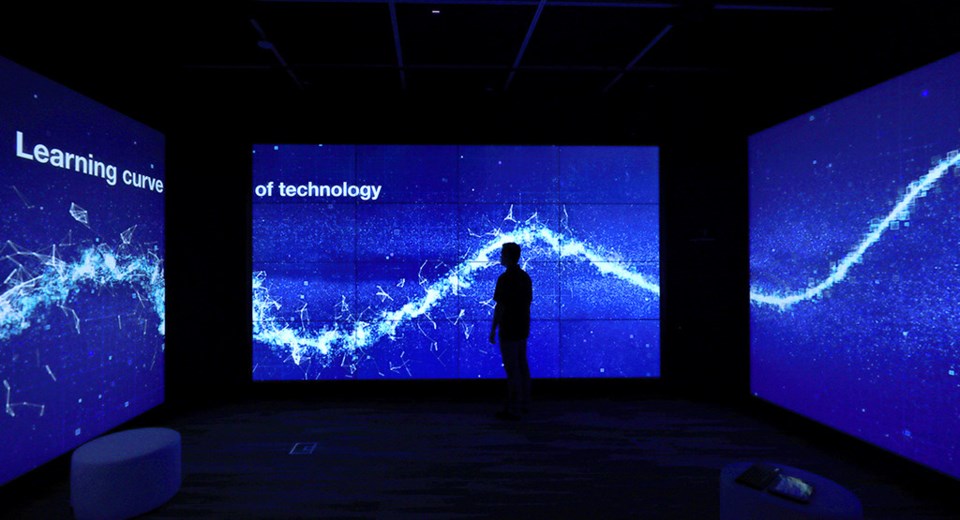 It starts with an idea.
At NTT DATA Services, everything starts around an idea, that much was clear as they celebrated their one year 'innoversary' at their U.S. headquarters on Legacy Drive, home to 600 team members, taking up 6 floors. Their neighbors include FedEx Office and Toyota Motor North America. Bright minds, technical geniuses and enough problem solving chops to help any company take their next giant step … but it all starts with an idea.
Developing that idea is the key. Touring their HQ, we are greeted with some digital toys for helping clients tease out, think through and develop their business needs and ideas. Here, cutting edge cool meets innovative thinking. From a simple 20 or so foot whiteboard, to an interactive touch-screen of equally impressive dimensions, the Collaboration Center offers all the tools needed to work on some rather sophisticated problems.
Most talked about is their holodeck, though they call it the "X Room", that Captain Kirk wishes he had. With the ability to project 360 degrees of images, video or live streams—really anything that might help visualize and solve any number of problems and manipulate the data thanks to interactive infrared technology—it packs a pretty significant wow factor in addition to being a tremendous resource.
It's this type of innovation that permeates their campus and is designed to help their team and clients work more closely together. With a clear eye on the future, NTT DATA Services, aims not only to be ready for today's meeting, but for tomorrow's as well. With the ability to reconfigure the entire Collaboration Center in just a few hours, NTT DATA Services, has created a unique space that not only impresses, but really stands apart in the simplicity with which it is able to work with clients to understand problems and find, or build, innovative solutions.
One such solution is their bio-metric wearable, the hitoe® shirt. Created especially for Tony Kanaan, the driver of the Ganassi team, sponsored in part by NTT DATA Services. Predictably, Tony is enthusiastic about the partnership, but once probed about the wearable technology that he, and only he, has—then he really begins to gush. As he shares his experience with the wearable tech, and how it has changed his preparation for each race, altered his training regime and, ultimately, made him a better driver, you couldn't help but appreciate that this is no hypothetical technological improvement—it's real tech that's giving him a real strategic advantage.
Knowing the NTT DATA Services team counts on numerous resources and thousands of brilliant minds around the world, it's easy to see why they are such a powerhouse that helps leading companies power their sophisticated technological needs. Knowing they are based in North Texas, right in Plano's Legacy West, can only be reassurance of the great technical talent that companies in the area can count on, as well as the jobs that schools are busy preparing their students for.
Now, I just need to figure out how to build one of those holodecks at home … for problem solving purposes of course.