Enter Henry's Homemade Ice Cream and meet Dan McCall: an outgoing, full-of-life employee who is celebrating 20 years at Henry's. Henry's Homemade Ice Cream is a manufacturer and supplier of handmade, all-natural ice cream, toppings, and cakes. The small and cozy shop is located on Independence and Parker in Plano, where the sweet smell of fresh ice cream greets you as soon as you open the door. Even if you haven't experienced Henry's homemade, unique flavors in store, maybe with a bite of a hot dog, you've probably eaten Henry's at one of the 700+ restaurants they cater.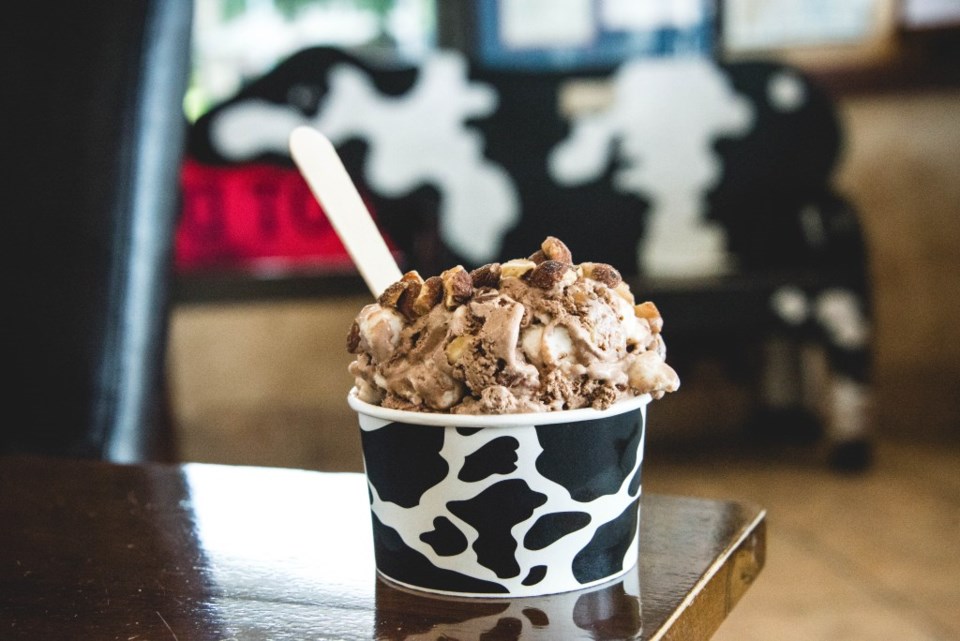 Dan is a unique member of the Henry's team, with a fascinating story. Dan has autism—though this in no way defines him. He graduated from Plano Senior High School and went on to complete additional programs at Collin College. Now, Dan lives on his own, but he maintains a close relationship with his mother, Jane.
While talking to Dan, I couldn't help but smile every time he spoke; his enthusiasm for everything he says and does is contagious. He loves to travel, and his goal is to visit all 50 states. This year, he is preparing for a trip to Florida. "It's going to be my first time flying in nine years!" he exclaims.
Read more: Mi Cocina, Taco Diner's new CEO's plans
Dan loves working at Henry's Ice Cream. July 4th is one of his favorite holidays because the date marks the birth of the United States and the first time Dolly Madison made her vanilla ice cream. I asked Dan what his favorite flavor of Henry's Ice Cream was, and there was no hesitation or pause—just a big smile and two words: "Cookie Dough."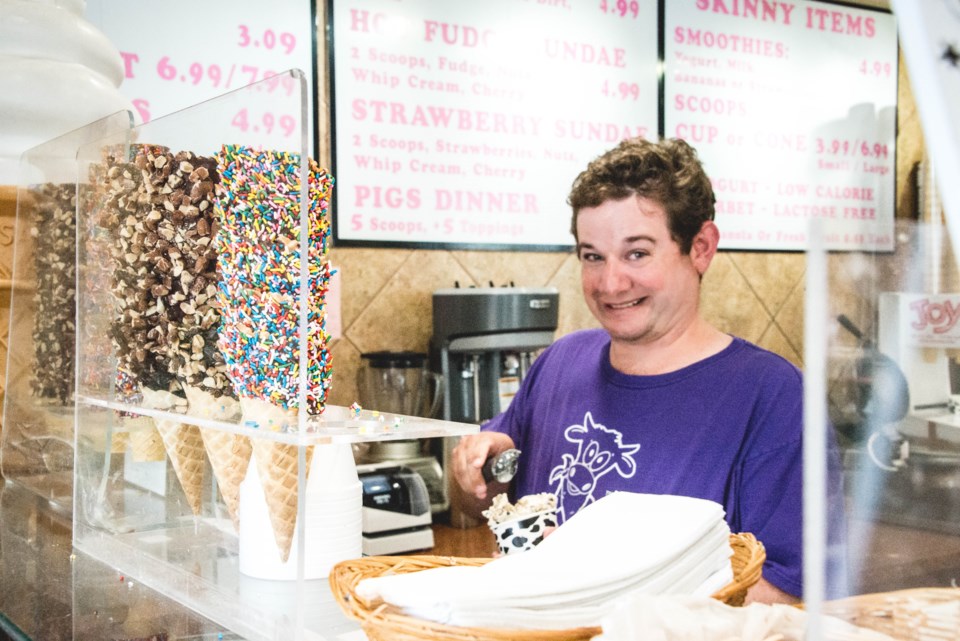 Besides working at Henry's, Dan attends social events with friends and Sunday church services, where he remembers his favorite hymns. Dan has an incredible memory; his mother says that he knows the exact year that most significant songs of the '70s, '80s, and '90s were popular, as well as details about bridges in the USA and the Three Stooges.
He has an artistic side, as well. Dan draws cartoons with fun speech bubbles, and he is an avid piano player. His mother says that he has perfect pitch, is an auditory learner, and plays everything by memory! He started taking piano lessons from Anne Bowman in September of 1999, and has since learned many traditional classical pieces, with favorites by Bach and Beethoven. Dan has played for several assisted living facilities, events at CRUMC, and a Bethany Elementary School teacher event. He has also recorded two CDs as gifts to family and friends. Dan enjoys playing Anne Murray's songs; he even wrote to her once and received a gracious letter and autographed photo in response! Some of his other favorites include Elton John, the Beatles, Henry Mancini, as well as hymns and folk songs.
Read more: A guide to the market table at Fogo de Chã0, Legacy West
Dan is a cherished member of his community, and he is a loved employee at Henry's Ice Cream. From the original location on 15th Street to the current location on Independence and Parker, Dan continues to be a great addition to the Henry's team. The owner, Henry, lights up when he talks about "Danny". "He remembers everything," Henry says. "He is quick with math and he is a little bit of a camera ham." Dan made the frosting and icing for Henry's cakes for a long time, and his favorite cake is red velvet. Now, Dan works as a clerk for Henry's. He does a variety of jobs from general cleaning and sweeping to crushing pistachios for ice cream and operating the cutter for frozen pies. Henry appreciates Dan's contribution to the ice cream shop, adding that "he is on time and ready to go" and has never missed a day of work in 20 years. "Everyone knows Dan. Everyone likes Dan. When they see Dan, they smile. Dan is the cornerstone at Henry's Ice Cream. I am proud to have Dan as an employee and friend."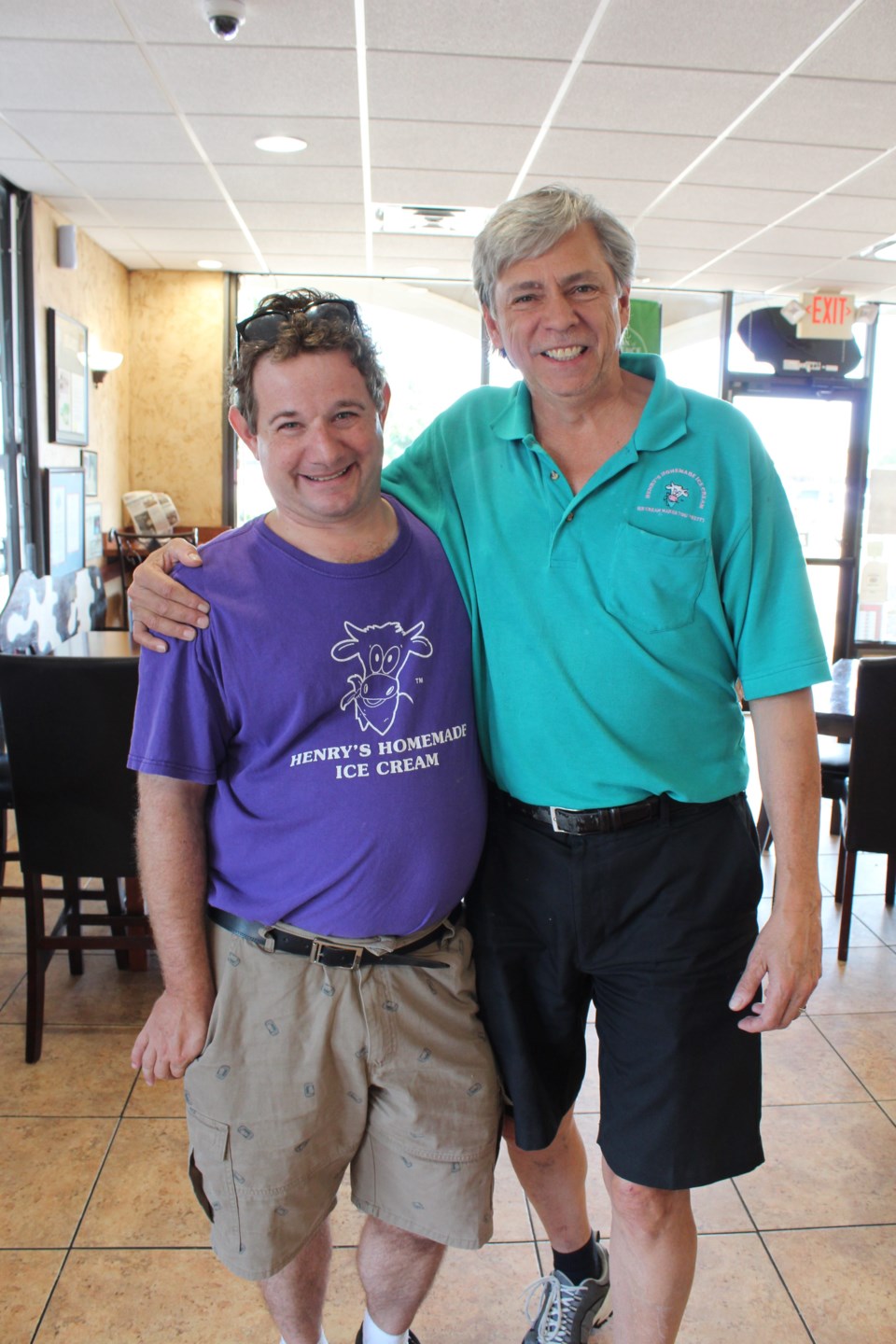 Henry's Ice Cream truly is one of a kind, being one of the only establishments that actually uses authentic, real ingredients in their ice cream. And after meeting Dan, it looks like their employees are one of a kind, too!
For more information about Henry's Homemade Ice Cream, click here.