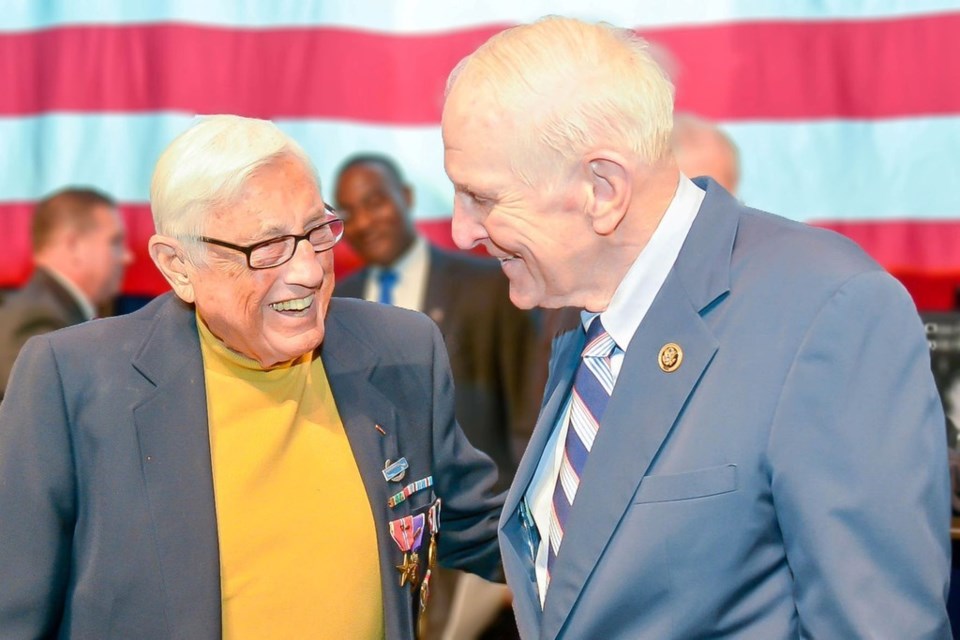 In a special moment for an incredible individual, Harold "Hal" Power, resident of The Legacy Willow Bend in Plano, was recently recognized by Congressman Sam Johnson at the 2015 Congressional Veteran Commendation Ceremony for the 3rd District of Texas.
Power received the award for his unique achievements while serving in the Army's 106th Division during World War II. Power was a prisoner of war, and he had several notable accomplishments. For his bravery in the line of duty, Power received the Combat Infantryman Badge, the Bronze Star Medal with Bronze Oak Leaf Cluster and "V" (Valor) device for saving the lives of U.S. troops behind German lines during the Battle of the Bulge, four Purple Hearts, the Prisoner of War Medal, the European-African-Middle Eastern Campaign Medal with three service stars and the Good Conduct Medal, among others. Power was nominated by fellow veterans Robbie Robinson, a past Congressional Veteran Commendation recipient and fellow resident at The Legacy Willow Bend, and Colonel Ben Greenfield, who deemed Power to be an extraordinary individual and a true hero of World War II.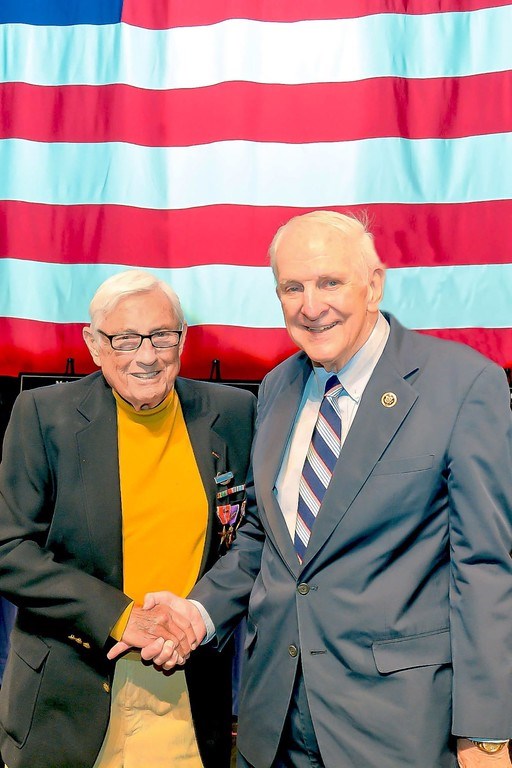 "When I met and then got to know Hal and learned about the number of Purple Hearts he has, I thought that he should be nominated for the commendation," said Robinson. "I thought that anybody with the number of medals and the story that he has is an extraordinary individual. He is the real deal, and I thought that it would be great for Congressman Johnson to recognize him, because what he achieved was extraordinary."
During World War II, Power participated in the Battle of the Bulge, after which he was captured and held prisoner of war. It was here that Power's tale begins, a truly remarkable story of courage and survival. Power and other U.S. soldiers were held prisoners of war behind enemy lines. For the next four months after his capture, Power endured brutal beatings and manual labor in German prison camps that brought him to the brink of death. Despite his condition, Power remained determined to return to his fiancée and his family. It was that hope and determination that enabled Power to eventually escape the prison camp and save the lives of four of his fellow soldiers.
"It is my distinct honor to recognize Private First Class Power for his service to our great nation," said Congressman Johnson. "It is stories like Power's that played a role in inspiring my fellow ROTC brothers and me to take our military careers further. We wanted to do our part in defending freedom and democracy. So it's my hope that our future generations will also be inspired by his love of country. From one veteran to another, I thank Power for his service, which was above and beyond the call of duty. He is a true patriot, and I salute him."
"After all of my experiences, I say the most important award has been the ability to enjoy my life; I am truly honored to receive this recognition," said Power. "Knowing that I will receive it all because of my fellow soldiers and friends makes it all the more meaningful."
After his service, Power would go on to have a successful career with Shell Oil Company and a family of three children with the love of his life. Power has given an account of his service, which has been published by the Texas Historical Commission and has been recorded on a video that is now in the Library of Congress.
"Hal Power is a true American hero, and he deserves this recognition," said Marilyn Israel, executive director of The Legacy Willow Bend. "Power has been recognized in a way that will ensure that his legacy will be remembered for years to come. He is a true inspiration and a role model to all."
Photography by Susan Lynch
LEGACY WILLOW BEND
The Legacy Willow Bend, Plano's first and only life care retirement community, is situated on a 28-acre site at Spring Creek Parkway between Preston Road and Ohio Drive. The Legacy Willow Bend offers resort-style services and amenities for active, independent seniors, as well as all levels of health care services on-site. The community features 103 independent living apartment homes, 12 custom independent living villas, 40 assisted living apartment homes, 18 memory support suites, and 60 private skilled healthcare suites.
The Legacy Willow Bend is a 501(c)3 nonprofit retirement community owned by parent company, The Legacy Senior Communities, Inc. The Legacy Willow Bend, the only Jewish-sponsored life care retirement community in Texas, is open to people of all faiths. For information, call 972.468.6208, or visit thelegacyWB.org.