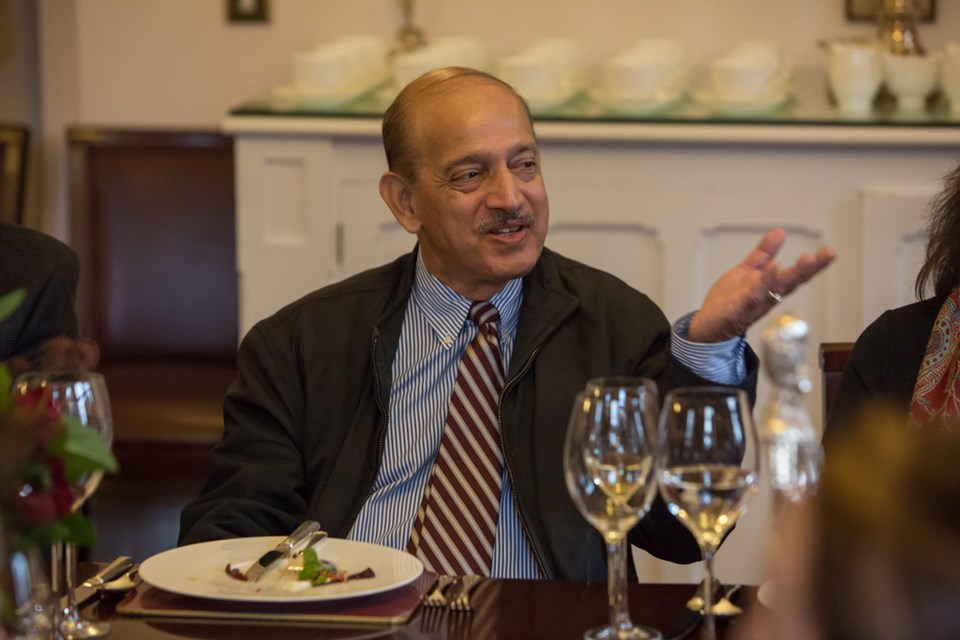 The rarest, most precious and richest blend of any whisky in the world, Tribute To Honour is blended from the most exquisite Scotch whiskies. Aged over a period of 45 years, it is so rare that until recently only its creator, Royal Salute's Master Blender Colin Scott had tasted it. In fact with only 21 of these diamond encrusted bottles produced, Colin Scott is one of a very privileged few that will ever experience this very finest expression of Scotch whisky. Plano's own Derek De Souza recently joined this exclusive club.
A Plano resident of more than 30 years, Derek De Souza has a passion for whisky. A passion which recently saw this scotch connoisseur journey to England for a once in a lifetime whiskey experience.
Derek and his wife Jay were invited by Royal Salute and Mr Mahesh Patel, fine whisky collector and owner of two of the 21 bejewelled and numbered bottles of this remarkable whisky—each flagon being worth US$240,000.00.
Staying at the stunning Shangri-La hotel, at The Shard in the heart of London, their adventure began with a single malt whisky tasting at The Whisky Shop in Piccadilly followed by a 5 course dinner at the Michelin 5 Star restaurant—Benares in Mayfair. This gastronomical tour de force continued the following day with lunch at Browns, a wine and truffle pairing, as well as a tasting of Royal Salute at Harrods and a 5-course whisky dinner at Claridge's. Other highlights included a private tour of The London Eye, a VIP viewing of the 62 gun salute at the Tower of London, and an exclusive visit to Garrard, the oldest jewellery house in the world and the jeweler chosen to dress Tribute to Honour—with no fewer than 413 black and white diamonds.
The pinnacle of the journey however was the Ultimate Tribute Dinner hosted at The Little Banqueting House of Hampton Court Palace, built by King William III for his personal entertaining. Here a bespoke dinner was served, followed by the tasting of the Tribute to Honour, led by Master Blender Colin Scott himself.
"We were transported by Rolls Royce to the palace and were taken on a private tour. A whisky and champagne reception in the room where dignitaries were received by the King—I loved the tapestries and the whisky! At the formal 5-course dinner​ we tasted each of the four whiskies that make up the Tribute to Honour. Then, when it was time to 'open of the bottle', Mahesh Patel and Colin Scott wearing white gloves carried it in together. Behind them was a Scottish piper playing a traditional march on his bagpipes. It was a solemn procession, but one that brought great excitement! Each attendant was given a 20 cl sample to take home with them… although most couldn't resist tasting some with our dessert. With strong notes of Mandarin orange, marmalade and ripe sultanas, it was indeed 'over the top' in the purest sense of the word. A fitting conclusion to a fantastic three days of 'pure nirvana'!"
Royal Salute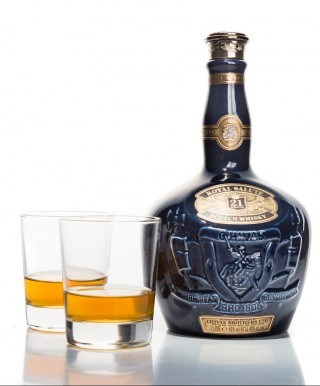 On June 2nd 1953, Queen Elizabeth II ascended the throne as monarch of the United Kingdom, Canada, Australia, New Zealand, Union of South Africa, Pakistan and Ceylon. On that same day, and in honor of this special occasion, the Chivas Brothers launched Royal Salute 21, the pinnacle of Scotch whisky.
Named after the 21 Gun Salute, a British military tradition of firing guns or cannons as a show of respect, Royal Salute boasts a powerful and sophisticated blend of whiskies aged for a minimum of 21 years.
Since then the brand has launched an entire collection of Royal Salute whiskies; Royal Salute 21 Year Old; Royal Salute 100 Cask; Royal Salute 38 Year Old Stone of Destiny; Royal Salute 50 Year Old; Royal Salute 62 Gun Salute and Tribute to Honour.