H-E-B Tournament of Champions and Central Market Commit $255,000 to My Possibilities' Operations & Capital Campaign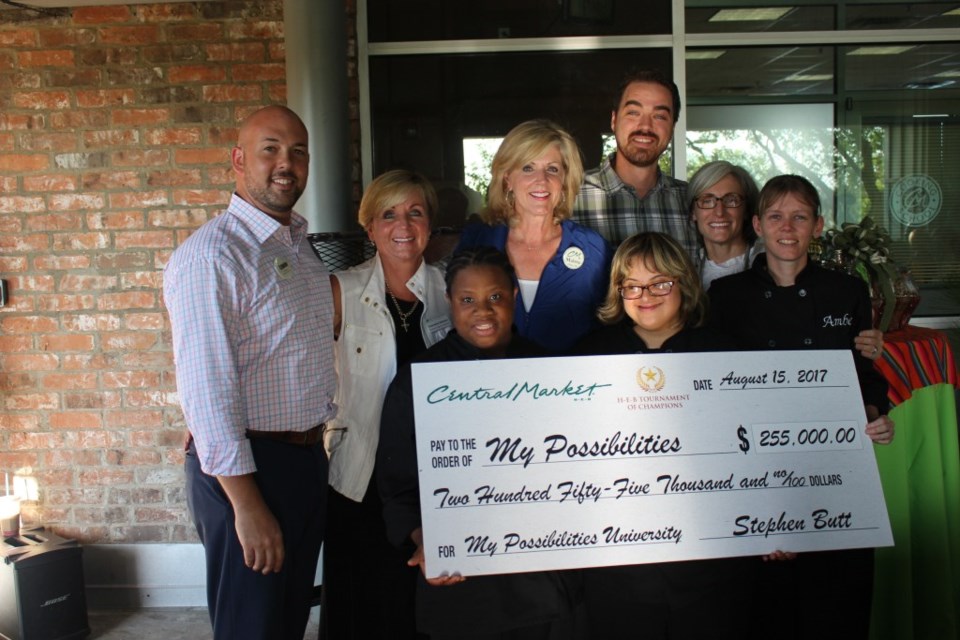 Together, H-E-B Tournament of Champions and Central Market have pledged a 4-year, $255,000 commitment to My Possibilities (MP), a non-profit organization dedicated to empowering adults with intellectual and developmental disabilities.
MP recently launched a 3-year, $25 million campaign that will expand its capacity to serve a larger percentage of the more than 250,000 individuals with a cognitive disability over the age of 5 that reside in the DFW area.
Representing a population that is roughly the size of the entire city of Plano, the educational opportunities available to adults with special needs is sadly lacking once these individuals phase out of the public education system.
Starting with ten clients—lovingly referred to as HIPsters (Hugely Important People)—just eight years ago, today My Possibilities currently serves nearly 400 HIPsters each week. With so many people in need of these services, the demand is high, and despite their growth, MP is only able to scratch the surface in providing advanced educational opportunities for adults with special needs in North Texas.
With the hopes to expand and build upon its current services, My Possibilities purchased 20 acres of land in Plano, Texas to launch its Lifelong Learning Program. This will be an educational environment modeled after a college campus but designed specifically for adults with intellectual and developmental disabilities. At its max capacity, this facility will serve 1,600 individuals with special needs per week.
Started in 1986, the H-E-B Tournament of Champions is one of the largest charitable events of its kind in the nation. The H-E-B Tournament of Champions was created to provide an opportunity for H-E-B's suppliers to partner with the company to support nonprofit organizations focused on providing initiatives important to children and families across Texas.
Since its inception, the H-E-B Tournament of Champions has raised almost $100 million and has helped more than 600 nonprofit organizations throughout the state. My Possibilities is the most recently named beneficiary.
"H-E-B Tournament of Champions and Central Market recognize how many more individuals in North Texas need access to the quality education that My Possibilities offers," says Stephen Butt, President of Central Market/H-E-B division. "The My Possibilities University Campus is a bold vision that will only come to life with the support and investment from local communities. H-E-B Tournament of Champions and Central Market are proud supporters of MP and its dedication to changing the lives of their HIPsters."
The need for these services in North Texas is tremendous, and both MP and Central Market invite everyone to join the 3-year campaign to raise $25 million for the first phase of construction of the new campus. With the help of the community, thousands of lives within North Texas can be changed.
Inquiries can be sent to [email protected], or contact Executive Director, Michael Thomas at 469-241-9100.