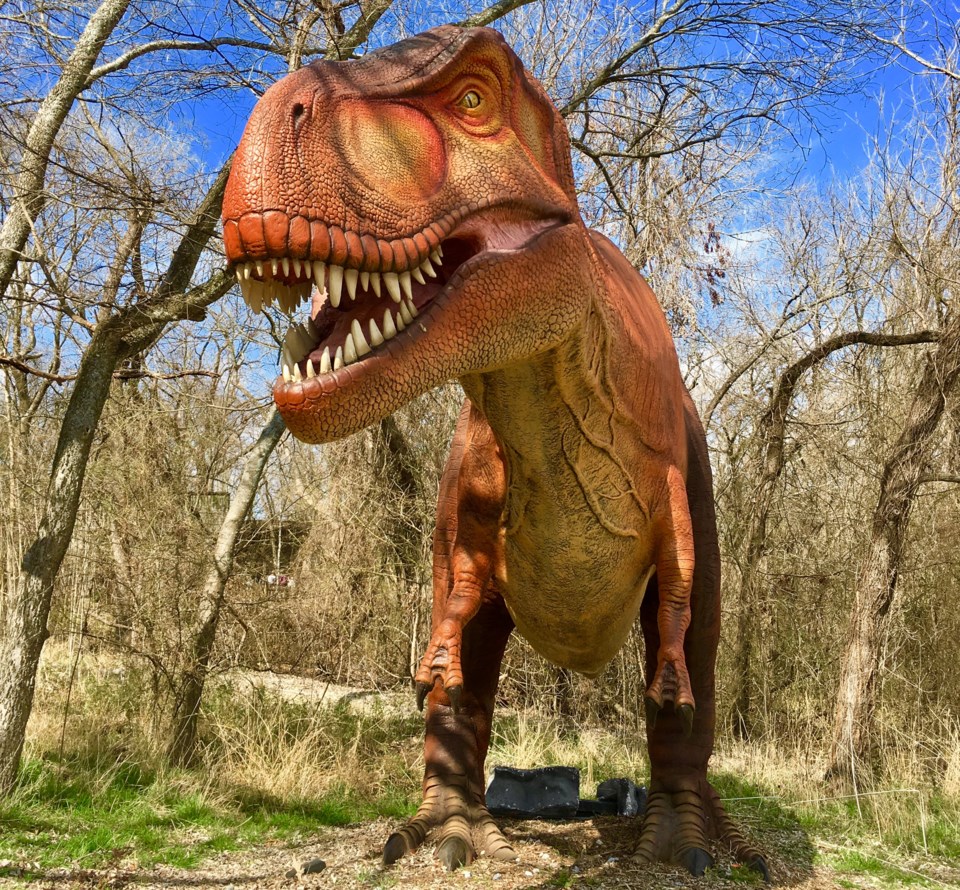 I simply love Dinosaurs Live! Open every year from September through February at the Heard Natural Science Museum & Wildlife Sanctuary in McKinney, I find it so thrilling! My toddler, however, is not so sure.
Read more: Hutchins BBQ and Catfish serves the best barbecue in McKinney
Dinosaurs Live! at Heard Natural Science Museum
Dinosaurs Live! is a half-mile nature trail that weaves you though the beautiful Texas wilderness along a gravel pathway. It's peaceful, birds chirp in the trees, it's an easy walk and although the trail can handle a stroller it's best left at home. Hiding among the trees, however, are dinosaurs! 10 animatronic dinosaurs that roar, move (slowly) and look very real. They are also life-size. Your toddler will either love it or hate it, or both. Our little one, Theo, is both fascinated and terrified.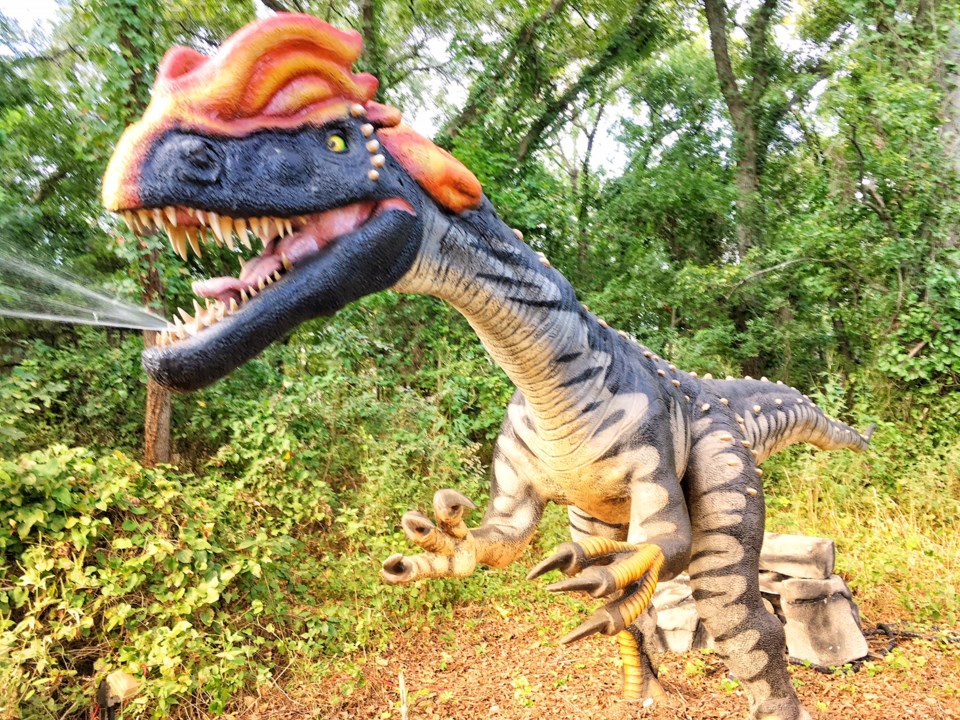 The exhibit features the infamous Tyrannosaurus Rex, a spitting Dilophosaurus, a Therizinosaurus, a Triceratops, a Styracosaurus, an Allosaurus, a Tarbosaurus, a Brachiosaurus, a Baryonyx and a specially-painted Megalosaurus. There's even an outdoor fossil dig to inspire future paleontologists!
Along the way you'll also find miniature dinos for the little ones to climb on (and for you to get a pic for your Instagram). Last year, we got a great shot of Theo posing with a Triceratops and this year we got him to pose atop a ferocious green and black T-Rex!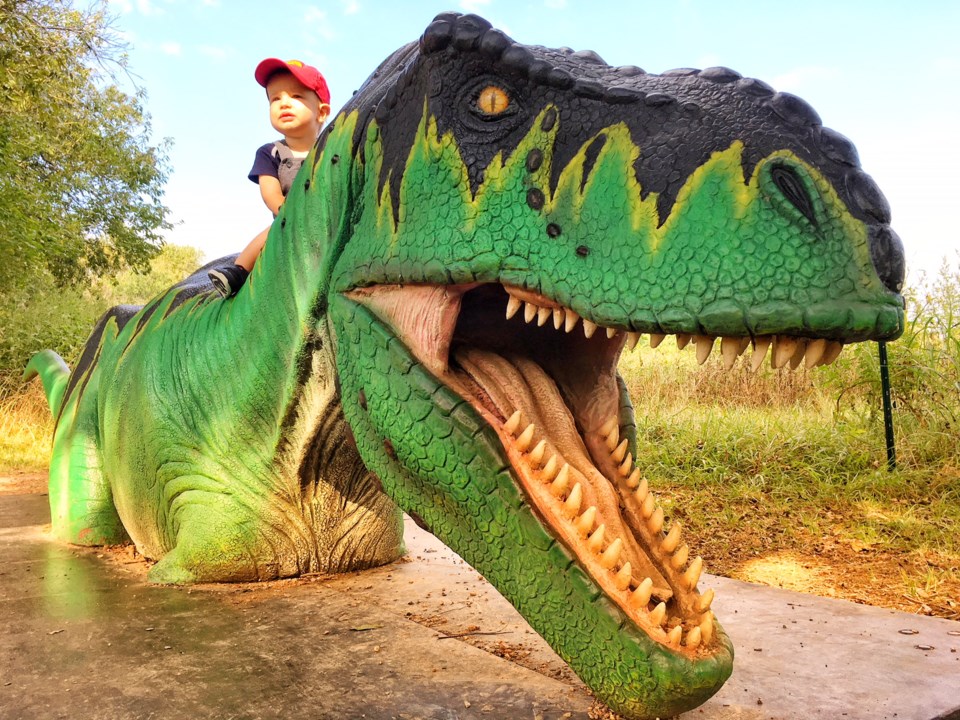 [This year, Dinosaurs Live! at Heard Natural Science Museum & Wildlife Sanctuary closes on February 18, 2018.]
One thing that is extra cool is the fact that these dinosaurs are built in Allen. Billings Productions Inc., located just down the road from Cabela's and Target in Allen, builds animatronic dinosaurs and insects for exhibits across the world. In addition to at the Heard Natural Science Museum & Wildlife Sanctuary, Billings Productions Inc. dinosaurs have also been in exhibit at the Dallas Zoo which hosted a Giants of the Jurassic exhibit in 2015. Further afield, their biggest show is at the Detroit Zoo, but they're also in Europe, Japan, China and Australia.
Read more: Billing's Productions Inc. is Collin County's Jurassic Park
The fun doesn't end at the end of the trail. Within the Heard Natural Science Museum & Wildlife Sanctuary (your ticket gets your access to the entire facility) you'll find so much more fun for your whole family.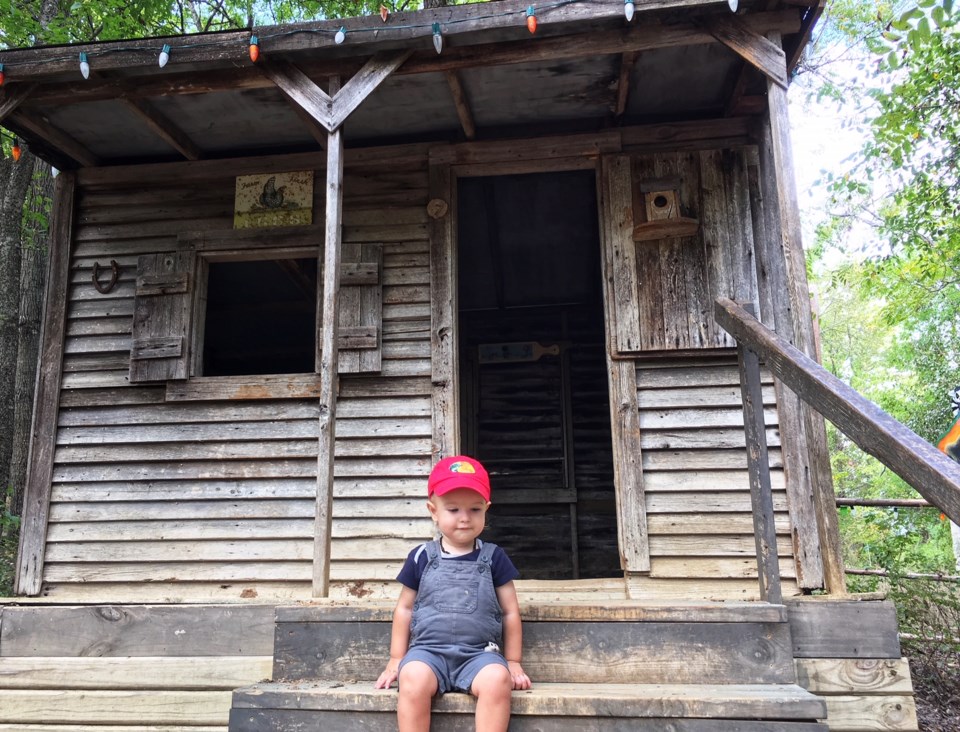 For us, we love the Pioneer Village, eight buildings in playhouse scale that emulate structures that would have been typical in prairie settlements in the late 1800s. They even have some rocking chairs so parents can sit and watch their little ones play. Beyond that there's the Animals of the World exhibit and the Native Texas Butterfly Garden and House.
They also have over 6.5 miles of self-guided or interpreted nature trails that wind though the diverse habitats of their 289-acre wildlife sanctuary, including tall grass prairie, bottomland hardwood and limestone escarpment.
Inside the museum, they have exhibits on Texas' venomous snakes, rocks, minerals and fossils, seashells and marine life, North Texas ecosystems, a children's fossil dig, a marine room, and more.
About Heard Natural Science Museum & Wildlife Sanctuary
Heard Natural Science Museum & Wildlife Sanctuary is a private 501(c)3 organization, which celebrated its 50th anniversary in October 2017. The Heard was founded in 1967 by Bessie Heard, who was 80 years old when she saw the need to preserve a place where future generations could experience nature. Today, the Heard's mission of bringing nature and people together is carried out through education, particularly of young people, which emphasizes an appreciation of nature and its conservation.
Heard Natural Science Museum & Wildlife Sanctuary
1 Nature Place, McKinney, TX 75069
972.562.5566
heardmuseum.org