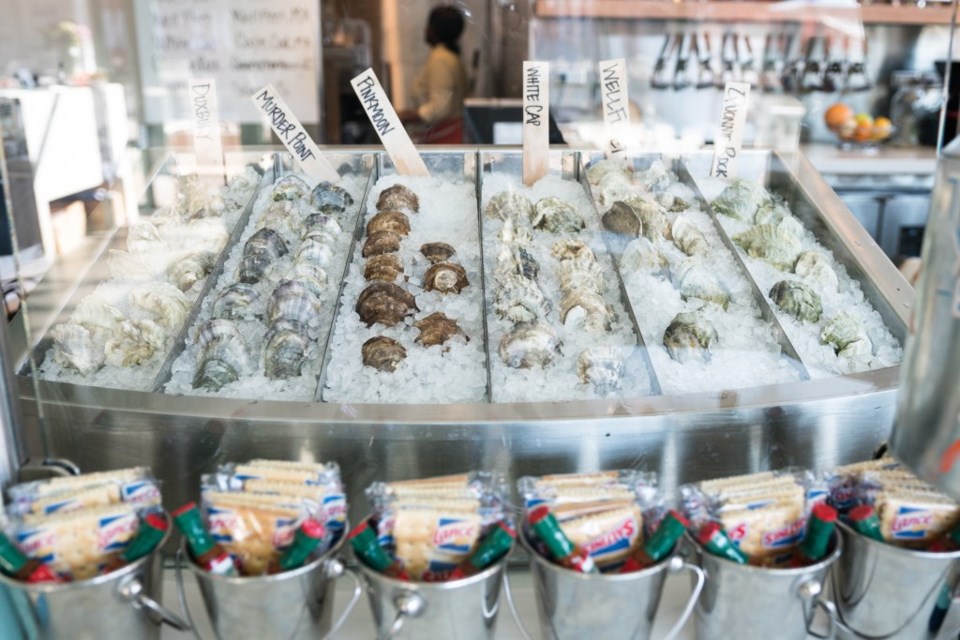 For oysters, there's no better place than Hookline at The Boardwalk at Granite Park, Plano. So, when Hookline announces their doing a special Oyster Roast and Crawfish Boil that includes all-you-can-eat oysters and crawfish you better run to get yourself a table!
Read more: Get reeled in by Hookline at The Boardwalk
Hookline's Oyster Roast and Crawfish Boil is special annual event and is only on Saturday, May 19, 2 to 8 p.m. Specials include all-you-can-eat oysters and crawfish for $45 per person and they'll be live music from Jimmy B & The Zydeco Posse.
Never been to an oyster roast? It's a tradition that comes from the Low Country of the Carolinas and Georgia, and for this special event, Hookline will be using James River oyster clusters–the most true and traditional way of doing an oyster roast in the Low Country. At Hookline, oysters will be placed on a custom-built oyster table and covered with wet burlap sacks as they are being fire-roasted and steamed. The oysters will then pop open on their own. To make it even more authentic, the culinary team uses a clean shovel to place the oysters on the table for guests to enjoy. The roasted oysters are served with horseradish, Bloody Mary cocktail sauce and fresh lemons to bring out the flavor. Guests can enjoy boiled crawfish, as well.
Bonus: Hookline has a beautiful patio overlooking a lovely lagoon. Also, Hookline has a magnificent bone-in pork chop for all the land lubbers out there, grilled to perfection in a maple bourbon glaze and served with a huge spoon of sweet potato mash, collard greens and a hunk of sweet cornbread.
Read more: The Biscuit Bar at The Boardwalk in Plano
Hookline, Plano
Hours:
Sun-Wed | 11 a.m.-9:30 p.m.
Thurs-Sat | 11 a.m.-10 p.m.
Where:
The Boardwalk at Granite Park
5872 TX-121 Ste. 104, Plano
(in Plano's Granite Park development near State Highway 121 and the Dallas North Tollway)
More: 214.297.3474 | hooklineplano.com