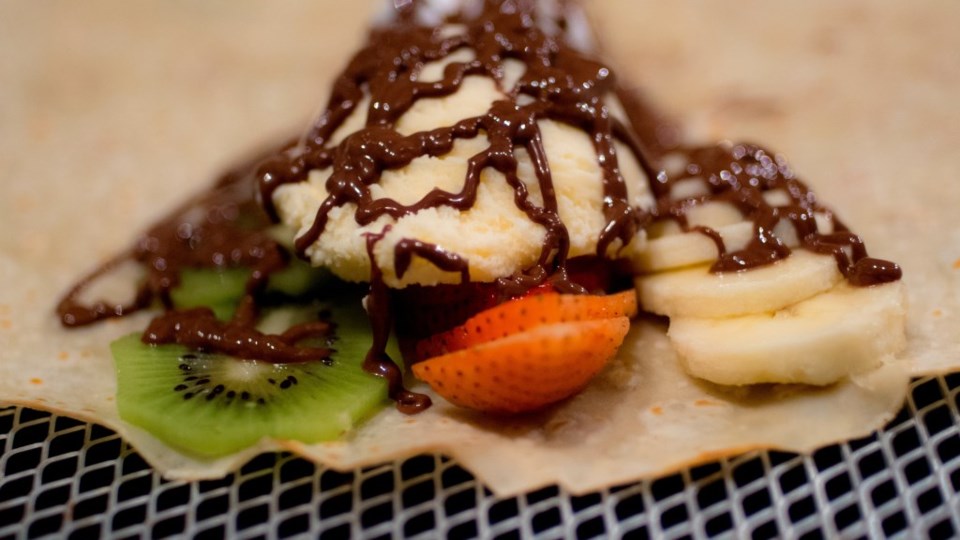 I first discovered Crepes For U, along with the owner, Mr. Paul, in 2011. I was an occasional customer, but I haven't been back until recently. To my surprise, he remembered me after almost a four-year absence. We then formally introduced ourselves and shook hands. I felt an immediate connection. It was at this moment that I realized he had to be the subject of the first episode of my new Internet series, "The CrossSection."
Located just inside the main entrance of the Jusgo Asian Supermarket in Plano, Texas, sits Mr. Paul's Crepes For U. From the outside, the store is unassuming and simple, but inside, you find a cozy, warm and almost familiar space. The doors opened in 2007, and ever since, Mr. Paul has developed a large and loyal following. When it comes to his customers, Mr. Paul said "Ninety-nine percent of my customers are like angels. They are so, so nice." But when you watch him interact with his customers, he is what makes the experience so pleasant. When asked about Mr. Paul's crepes, customers unanimously express love for not only the product, but for the creator as well. It's easy to see why so many people come back to visit Mr. Paul when you experience his charisma and generosity first hand. Even though hundreds of people come through his door, Mr. Paul manages to make sure every person feels cared for and noticed. As you watch him prepare your crepe, it feels as though he is preparing you a very personal gift.
Here is the pilot video of Matt's "The CrossSection:"
With that expectation already set, his crepes never disappoint. All of his fruit is cut to order, and is carefully placed on the inside of a fluffy and crispy crepe, using his secret batter made in-house, and then topped with your choice of whipped cream, ice cream, or both. Finally, it's drizzled with hazelnut spread (also homemade), and delicately hand-folded into the signature triangle shape.
His vast menu has something for everyone. Personally, for me, it's the Symphony Crepe, which contains fresh cut fruit, ice cream, and hazelnut spread…yum. My fiancée is more chocolate driven, so she opts for the Romeo Crepe, which contains thinly sliced strawberries, whipped cream, and lots of hazelnut spread. Mr. Paul also offers more exotic options, like the Vanko. It features red bean paste, green tea ice cream, and red bean topping. When it comes right down to it, whatever you're craving, Mr. Paul has a crepe to satisfy. His crepes are light, fluffy, and provide just the right amount of sweetness without overwhelming your palate.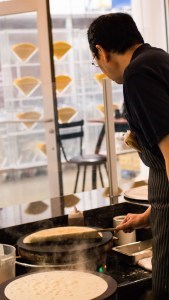 Now to talk about the man behind it all: Paul Pokachaipatt. Mr. Paul is a very special man, to put it simply. He's outgoing and extremely nice, of course, but there's more to him than that. The minute you talk to him, it becomes clear that he is a man who truly loves what he does.
He came to the United States in 1985 to pursue an education, and has been here ever since. Currently, Mr. Paul works 365 days a year, and only takes time off to visit his home in Thailand every other year. Other than working with his wife on the weekends, the store is a one-man operation with Mr. Paul at the helm. Using his two burners, he carefully takes his time making each and every crepe. He affectionately refers to these burners as the "things that fed [his] family for nine years." You can see in his eyes the fatigue of a man who has worked every single day for the last nine years. However, you can also sense the pressure he puts on himself to create a better crepe from one to the next.
This article was intended to be about Mr. Paul's crepes, but turned very quickly into an article about a man. Mr. Paul's crepes are the best I've ever had. You have to try them. But it's the man himself that will bring you back.
Photography by Matt Madoni
Crepes For U
240 Legacy Dr, Plano, Texas 75023 off Legacy Dr. just west of U.S. Highway 75
972.517.9100
Hours:
Mon-Fri 3-9 p.m.
Sat-Sun 12:30-9 p.m.