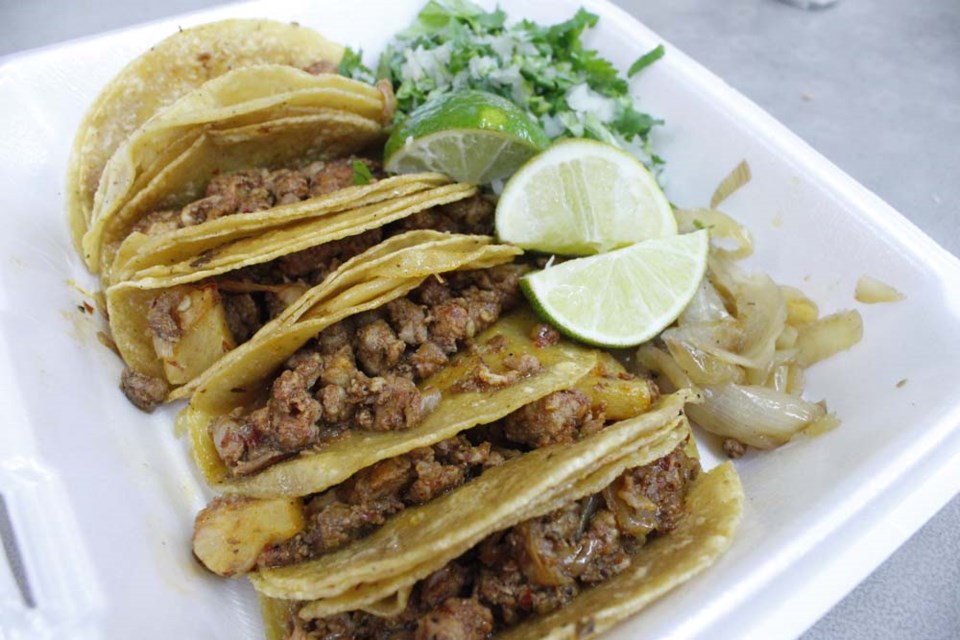 If you want really great street tacos, try Jamal's Convenience Store. That's right, a convenience store is home to some of the best street tacos you'll ever have.
Located in East Plano, Jamal's Convenience Store is just that—a small, quick-service market with cold drinks, check cashing and wire transfer services, foodstuffs and Taqueria La Paisanita, a grill-on-demand street taco counter.
Let's be clear about what street tacos are and are not. For many people, the word "taco" conjures images of crunchy corn shells or soft flour tortillas filled with spiced ground meat and a variety of toppings including lettuce, cheese, tomatoes and (if you're feeling luxurious) sour cream.
Street tacos are quite different. Birthed in the rural areas of Mexico, street tacos are known for their simplicity: Flavorful meat, onions and cilantro wrapped inside small steamy corn tortillas. Because the corn tortillas are small, usually 3″ to 4″ in diameter, the tortillas are usually doubled and tacos are sold in multiples. Street tacos are truly designed to be eaten on the go.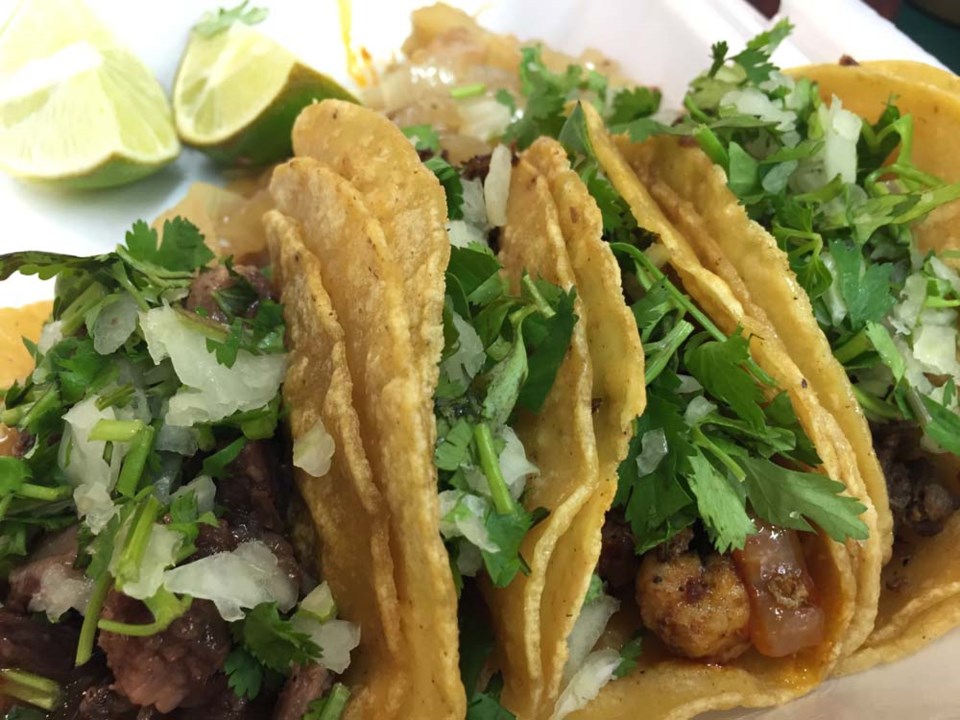 The parking lot at Jamal's is small, truly designed for you to get in, grab what you need and go. For those who don't want to eat on the go, there are two picnic tables inside the building for convenient seating. The staff keeps big squeeze bottles of red (rojo) and green (verde) salsa on the table, along with extra napkins.
We arrived at noon and found the line stretching halfway to the door. In our experience, this is always a good sign! We were about seven people back in line and found our total wait time from arrival to chowing down to be about 10 minutes.
The menu offers five types of tacos: Fajita, pastor, lengua, barbacoa and pollo. At the counter, simply indicate what type of tacos you want and how many of each particular type.
Prepared in front of you at a small grill, each taco comes with two small corn tortillas, warmed and nicely blistered on the grill, plus freshly chopped sweet onions and cilantro, unless you request for them to be left off. A small portion of grilled onions and a lime wedge are provided on the side. If you want to take your tacos on the road, you can pay for small to-go containers of salsa. Street tacos truly are the ultimate build-it-yourself experience.
We both ordered four tacos. At $1.49 each (plus tax), this made for a very affordable and filling lunch. While we waited for our tacos to be prepared at the grill, Steve grabbed drinks and paid for them at the main cash register. A large Mexican Coke (real sugar all the way) for me and a water for him cost $3.
We were called to the counter when our order was ready and were handed a Styrofoam container with our tacos neatly displayed. We could have grabbed seats at the bar facing the grill. Next time, I'll do that because I've always enjoyed watching food preparation. Instead, we squeezed in next to other hungry lunch-goers at the picnic tables.
Between the two of us, our order included every type of taco offered on the menu. Curious about the type of meat fillings? Here's an overview:
Lengua: The idea of eating tongue may be slightly disgusting, but trust us, tongue can be incredibly flavorful and is a very lean cut of meat. The meat is served finely chopped.
Barbacoa: Barbacoa is mostly tender cheek meat (cachete), tongue (lengua) or "mixta," which is all the various bits left after a cow head is slow-cooked and the meat pulled off.
Pastor: This tangy boneless pork shoulder is thinly sliced and marinated in adobo, a sauce made with chilies, garlic, vinegar and other spices.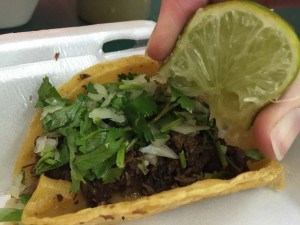 Fajita: Perhaps the most familiar of fillings, fajita is a grilled marinated skirt steak. Jamal's fajita beef was tender and not at all chewy, a common problem for tough cuts of meat like skirt steak.
Pollo: Tender, slightly spicy, shredded chicken. Steve declared this was his favorite. Salsa enhanced the flavor but certainly wasn't necessary.
We sampled the tacos both with and without salsa and thought they were delicious both ways. The tacos themselves are not spicy. Use the salsa to bring the spice level up to your preference. However, we recommend that you use a light hand at first with the salsa. The rojo and the verde both pack quite a punch and can cause even the spiciest food lover to break a sweat. We speak from experience on this! And, of course, you don't want to forget to give your tacos a light squeeze of fresh lime juice before you take your first bite.
Good to Know:
Jamal's accepts cash only and no outside food or drinks are allowed. A wide selection of beverages are available for purchase in the drink cases. Pay at the main counter—also cash only. If you'd prefer to eat your taco with a fork, make sure to grab that at the counter, too.
2901 K Ave, Plano, Texas 75074
972.424.6154