North Haven Gardens can be found on a quiet, mostly residential street, totally nondescript on the outside. This family-owned gardening center is peaceful, never too crowded, but it has more than just plants and garden tools. It's got rows of both usual and unusual plants and all sorts of colorful outdoor decoration. An art gallery hides in the back. There are classes in the greenhouse for aspiring gardeners of all skill levels and a landscaping concierge service, which sounds both helpful and fancy.
But pass through the mulch and moss, and the long aisle of ornamental kale, to a collection of white patio furniture that waits under a bright red "Café" sign. This is The Café at North Haven Gardens. It comes with so little fanfare it almost passes for more lawn decor.
Read more: The Biscuit Bar at The Boardwalk in Plano
The Café is clean and sun-soaked, filled with no more than fifteen marble tables. Each comes with a plant and a view into the nursery where all sorts of good things grow. It smells like yeasty, oven-warm bread and just a little like tilled earth. The counter where you place your order is stuffed with lemonades, sodas, cobblers and, my personal favorite, long-stem chocolate-covered strawberries.
It's got a simple menu, peppered with words like "garden" and "farmstead" and phrases like "smoked gouda and fig spread" that just make you feel warm and fuzzy inside. The Café limits itself to uncomplicated, wholesome sandwiches, smoothies, salads and brunch. From appetizers like avocado toast, roasted red pepper hummus and a cheese board to the cobbler, everything is appropriately green and healthy. Make sure to ask about the seasonal iced tea and pick a seat close to the wide windows.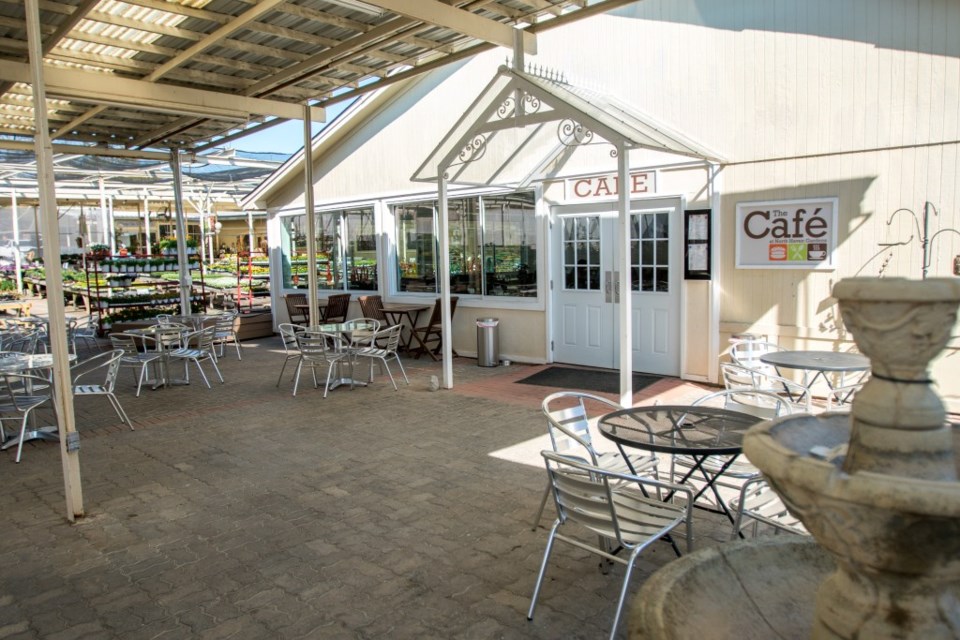 A cheese board is a perfect beginning. Simple but carefully arranged, the sampling looks like a DIY Pinterest board, but one that might actually be attainable with human hands. It's got plenty of homestead charm. A crumbly blue cheese, sure-of-itself manchego and smoked gouda share the spotlight, dressed up with hard salami, grapes and strawberries on a wild bed of greens, house mustard, pickles and a jar of fig jam.
The fig jam bursts with sweetness, tempering the sharpness of the cheese, especially the blue. Manchego, salami, mustard and a pickle are pretty heavenly together. Speaking of pickles, these aren't acid-green briny disasters like you'll find in a Vlasic jar. Instead, they've been gently pickled to an ideal, pastel dill with a solid crunch. We didn't get bread or crackers, but we didn't miss it.
Read more: Feeling very French at Toulouse Cafe and Bar Legacy West
The Toasted Caprese Sandwich arrives open-faced with its layers on full display. Thick slices of mozzarella and thick red tomato, layered over house-made pesto, have melted together. Balsamic is liberally drizzled over everything. Mozzarella is a breath of fresh air after an array of louder, bolder cheeses. There aren't many sandwiches as lowkey or clean as tomato and mozzarella. It's best served hot, but if you can't finish it, take it home. The toasted ciabatta is hefty enough that it'll hold up surprisingly well for an afternoon snack.
Another clear winner, and one of the most popular sandwiches, is the grilled cheese. The Café offers a summery take, filling two slices of seven-grain bread with cheddar and smoked gouda, before folding in apple slices and generous fig jam. Pure, melty goodness, it's a delicious gourmet take on an old favorite.
Or, turning to the salads, the Super Greens Salad is one of those guilt-free options that doesn't feel like a sacrifice. It starts with a spinach and kale base before adding sliced strawberries, feta and a ton of almond shavings. Fig vinaigrette comes on the side. Raw and bright, the strawberries are remarkably flavorful, straight from the field. I love The Café's abundant use of figs; the fig vinaigrette is by all counts superior to more typical balsamic, bringing something sweet to the table.
Finally, do yourself a favor and finish with one of those huge chocolate covered strawberries. They've been nurtured to deep red.
It bears repeating: if you didn't know The Café was there, you'd never see it. Enjoy lunch among the flower beds.

North Haven Gardens
Hours:
Mon – Sat | 9 a.m. – 3 p.m.

Sun | 10 a.m. – 3 p.m.
Where: 7700 Northaven Rd., Dallas
More: 214.363.5316 | nhg.com