The historic town of Fredericksburg lies past cacti, native wildflowers and the occasional armadillo on the winding roads of the Texas Hill Country. The city has a rich history, but that's not the main attraction. Thousands of people flock to Fredericksburg for one thing: Texas wine.
I head to Fredericksburg in mid-November on a Saturday morning with my partner, Matt. It's a cloudy day with mild weather, perfect for sipping wine without being scorched by the sun.
Fredericksburg is home to more than 20 wineries, but we narrowed our selection down to three: Barons Creek Vineyard, Becker Vineyard and Fat Ass Ranch & Winery. We board the 290 Wine Shuttle, a hop-on hop-off style tour bus that runs on Saturdays and the occasional Sunday. The shuttle is filled with couples and bachelorette parties. Be prepared, Saturdays are busy. But with the crowd comes lots of fun.
Read more: Sip & Savor: a charming neighborhood restaurant in Plano
Barons Creek Vineyard
Our first stop is one of the earliest on the bus route. Beautiful, crisp white buildings with red and orange Spanish clay roofs stand out against rows upon rows of green grape vines. A popular wedding venue, Barons Creek is one of the most picturesque wineries with a large pavilion and several villas.
We head to the tasting room for our first sips of the day; several whites are chilling on ice, while the reds aerate. We defer to our hostess as neither of us are sommeliers but rather, amateurs very willing to learn. She gives suggestions based on what we like and explains the best order to drink them in so that the flavors flow. We start with the whites and end with the boldest red.
My favorite is the Velvet, a Merlot and Cabernet Franc blend. Flavors of fruit dance on the tongue, but it is the lingering, velvety feel that makes this wine so memorable. Other mentionables include the Texas Merlot, winner of the silver medal in the 2017 Lone Star Wine Competition, and the Viognier for those who prefer white wines.
Becker Vineyards
Becker Vineyards is home to 42 acres of vineyards, wildflowers, peach orchards, milo fields, oat patches, corn fields and lavender, along with an 1890s homestead log cabin complete with windmill. Tours are offered throughout the day providing a fascinating behind the scenes look.
According to their website, Becker Vineyards' wine "has been served in the stateliest of settings," including the White House, the James Beard Foundation in New York and the Texas Governor's Mansion.
Walking through the main entrance, the aroma of lavender engulfs your senses. A variety of lavender products—soaps, lotions, candles, lip balm—are sold among other wine-themed souvenirs. We make our way outside for our tasting at the bar adjacent to a large pavilion with tables and yard games like corn hole. Children run up and down rows of lavender while parents enjoy the adult beverages. One of the great things about Fredericksburg is there's something for all ages.
Matt and I choose to split a tasting. Once again, we let our bartender lead us in the right direction, which is red. The 2013 Cabernet Sauvignon Texas is hard to beat. A blend of Cabernet from three of their vineyards, it was a gold medalist in the 2016 San Francisco International Wine Competition. It's well balanced, displaying soft round tannins with fruit forward notes and hints of vanilla and coffee. Recommended pairings include a fatty cheese, grilled beef and chilled melon.
Fat Ass Ranch & Winery
Back on the bus we head to our next stop because with a name like Fat Ass, how could we resist? Owned by Gail and Jeannie McCuller, Fat Ass is intended to be unlike any other winery in Fredericksburg.
"It all started when we got married and found the ranch. … It wasn't long before we noticed our britches were fitting tighter. Even our old ranch dog was gaining weight. One day when we were out feeding horses, we noticed our donkey, Jackson, was as big as some of the horses! That's when we looked at each other and decided that we lived on the Fat Ass Ranch," Gail fondly recalls the story as we talk over the crowd.
The ranch is funky. A country band plays under the covered patio outside, while groups of people drinking wine float around the grounds. We make our way to the center bar for our final tasting. I can't help but admire the artwork on the bottles; on one, there's a donkey in a sombrero, while on the Granny Smith Apple, the same donkey has a white wig and glasses. All the designs are created by Jeannie who is also an artist.
The wine is funky, too. In the best possible way! Fat Ass specializes in flavored wines like Watermelon and Strawberry Fields. I especially like the Peach, but their most popular is the Prickly Pear JalaRaspberryPeño. My tastebuds are engulfed in sweetness, but it's a trap, because a moment later the jalapeño explodes. It's a daring contrast of spicy and sweet.
Read more: Day trip: Sharkarosa Wildlife Ranch
Wine About It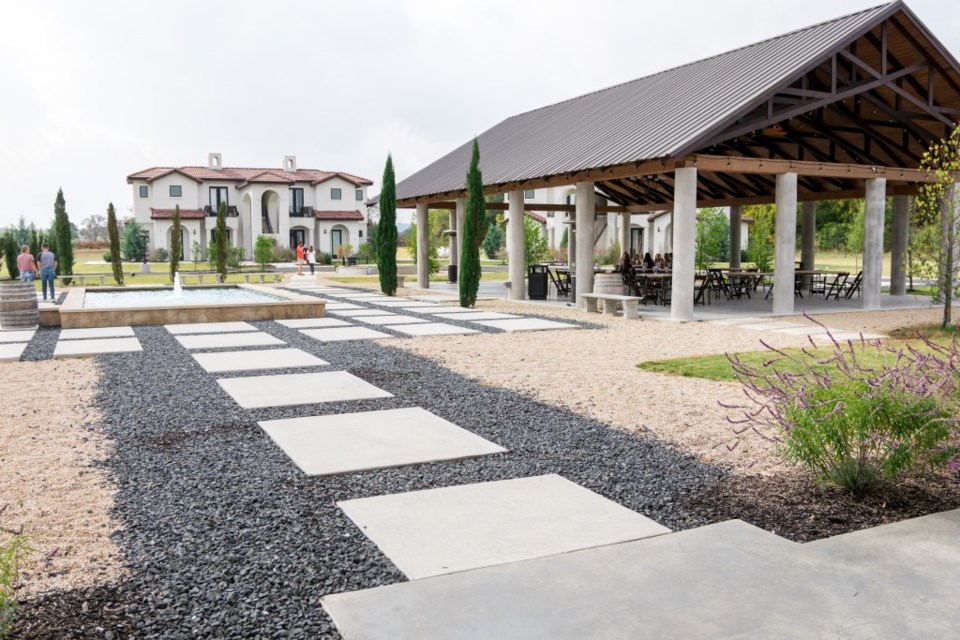 Fredericksburg wine tours can be a unique and fun experience without the hassle of traveling out of the state. If you're with a large group and taking the shuttle, expect to get separated into smaller groups. The shuttle has limited space, so large groups—more often than not—get split up. Groups of six to seven people can schedule wine tastings beforehand; some offer food pairings and private rooms with stunning views. If your party is larger than that, look into renting a private party bus.
Some vineyards host last call earlier than others, so check their hours ahead of time. Lastly, pace yourself and drink water, so that everyone can have a fun and responsible trip.
This story was originally printed in the May 2018 issue of Plano Profile under the title, "Fredericksburg."