Luxury Garage Sale, the Chicago-based upscale consignment brand specializing in stand-out designer clothing, handbags, shoes, and accessories, has opened a pop-up boutique at The Shops at Willow Bend in Plano. The pop-up will run through December 31. Luxury Garage Sale is extending its presence in Texas by opening two pop-ups simultaneously. The second pop-up is located at Rice Village in Houston; an existing location already exists in Dallas.
Catering to Texas' legendary larger than- life appetite for covetable couture and famous for its ability to attract top notch designer goods to sell at discounted prices, Luxury Garage Sale has garnered a reputation for premium, personalized service that not only offers shoppers a luxury shopping experience, but also provides consignors a trusted avenue for reselling their goods at fair market values. Luxury Garage Sale is defining this new market as "luxury recommerce" – the process of re-selling new and pre-owned authentic designer goods while offering the personalized service and experience expected of a luxury brand.
In celebration of National Consignment Day October 1st, Luxury Garage Sale will be offering 70% commission for Chanel, Gucci, Fendi, Prada, and Goyard handbags throughout the month of October.
Read more: Celebrating in style at Industrious Plano
The Plano pop-up will have a 90-day run and feature a wide selection of fully authenticated, hand-selected items chosen specifically for the fashion savvy, discriminating shopper. The selection includes women's and men's clothing, handbags, shoes, jewelry and accessories at varying price points. Shoppers will find many one-of-a kind items transported to their backyard at the Luxury Garage Sale Pop-Up Boutique. And, at nearly twice the size of the permanent Dallas store, the Plano pop-up boutique will carry even more of the new, pre-owned, and vintage pieces Luxury Garage Sale customers know and love.
Prior to Luxury Garage Sale's founding in 2011 by childhood friends Brielle Buchberg and Lindsay Segal, a void existed for a curated designer retail experience and consignment boutique rolled into one. Luxury Garage Sale combined their backgrounds in fashion, retail, styling and marketing, allowing them to exercise entrepreneurship and manifest their passions. They decided that 2018 would be the year of the pop-up. To date, Luxury Garage Sale has opened more than a dozen pop-up boutiques across the country.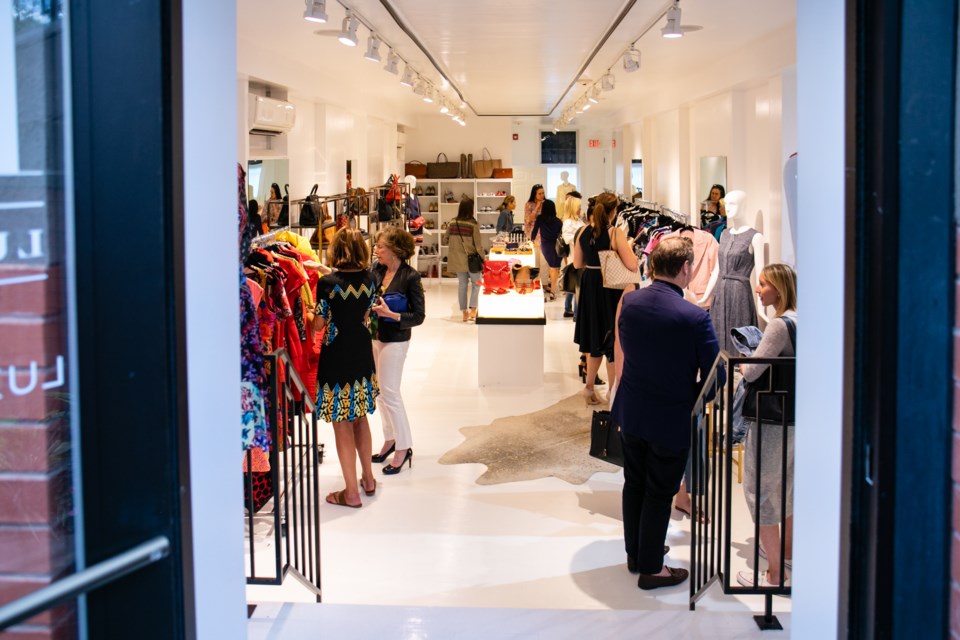 Luxury Garage Sale customers are privy to a rewarding shopping experience because of its talented stylists and superior merchandising. "We really know our customers and select the pieces we feature in each pop-up shop with its location in mind. Our market expertise and style acumen make it possible for shoppers to find exceptional staples—as well as rare pieces that can be transformative," says Buchberg. Top-selling brands are a veritable who's-who of fashion's most exclusive, niche, coveted houses: Hermès, Chanel, Prada, Gucci, and Louis Vuitton, among others.
Luxury Garage Sale provides consumers access to customer-friendly consignment practices. It offers risk-free pricing and industry-leading commissions. Even better, consignors can drop off items at the pop-up (no appointment needed!) or Luxury Garage Sale will make a complimentary closet consultation or merchandise pickup. "It's intuitive and hassle-free, because we know when it comes to coveted, gently used designer pieces our clients rely on us for the most effective reselling experience and return on investment," said Segal. "Our in-house market experts evaluate, authenticate, photograph and price every item we consign, and go the extra mile to meet our clients' requirements and needs."
Read more: Reinventing Willow Bend, CEO of Starwood Retail reveals $125 million plan
With locations in Chicago, Dallas, Minneapolis, Seattle and luxurygaragesale.com — and pop-ups in Houston and Plano — Luxury Garage Sale has been featured in Refinery29, Marie Claire, Elle, Daily Candy, Chicago Magazine, Racked, NBC, FOX and more.
For more information, click here.