As a young girl growing up in Crimea, Tatyana Neznaeva never imagined she'd be living her adult life in Texas pursuing a career in belly dancing. After being rejected from ballroom dancing because she was too short, she decided to try belly dancing after seeing it on TV.
"I fell in love with the costumes and moves," Tatyana says. "It was an escape from the rain, snow and gray weather in Russia. Belly dancing was like a breath of fresh air."
After learning the dance in Russia, she continued her education when she moved to Texas eight years ago. She instantly loved everything about her new home – the warm weather, the people, the food, and her new belly dancing family at the Authentic Belly Dancing Academy. From there, the dance that had once been a hobby and a form of exercise turned into a career.
She practices weekly and performs with both with her troop and individually at a mix of private events, local festivals, and at restaurants around DFW, including Cafe Istanbul at the Shops of Legacy, Plano.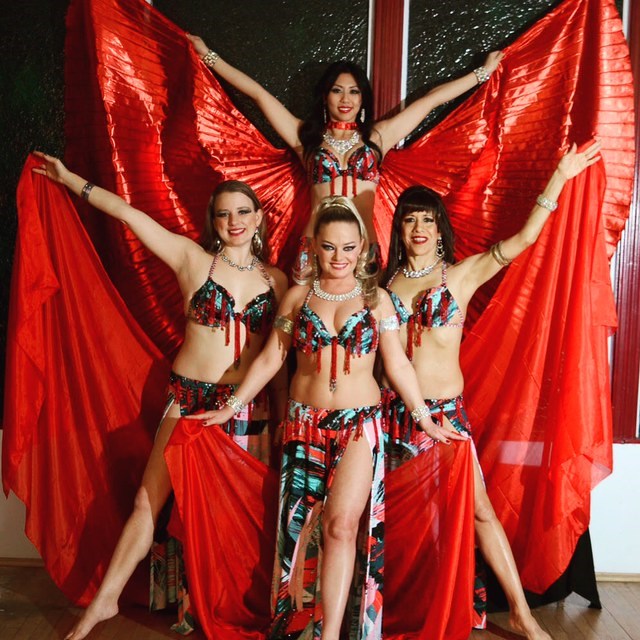 Even though she's been dancing for over a decade, each performance serves as a new challenge and an opportunity to entertain and engage new audiences.
Read more: Turkish Café and Lounge: A taste of the Middle East in the heart of Plano
"Before all of my shows, I have butterflies," Tatyana says. "But when people start to react and engage with my dancing, I open up and feel brave and confident."
In addition to performing, Tatyana makes each of her costumes by-hand and she practices each week with her group at the Authentic Belly Dancing Academy. She hopes that experience she provides – from the outfits to dancing – will inspire others to explore belly dancing and discover something in themselves.
"Belly dancing is for everyone, no matter what your shape, size or color," Tatyana says. "It makes you feel feminine and it's also great exercise – every woman should give it a try."
Tatyana Neznaeva on life, belly dancing and cats
Describe yourself in five words: Funny, faithful, kind, passionate and strong
What did you want to be when you grew up? A ballerina. I remember watching ballet on TV and asking my mama to sew me a matching outfit.
Favorite thing about Texas? The different types of people. You can go to a restaurant and see a mix of people from cowboys to city folk.
Why belly dancing? Belly dancing is for everyone, no matter your shape, size or color. It makes you feel feminine and it's great exercise—every woman should give it a try.
Guilty pleasure? I like to eat in general … steaks, salmon, cakes, ice cream!
Favorite spot to visit in DFW? The zoo
Favorite food at Cafe Istanbul, The Shops at Legacy? I love the Shish kebabs. They remind me of my hometown.
When do you feel your bravest? When I'm belly dancing and people start to engage, I open up and feel confident.
Your spirit animal? A cat. Cats can love you and be loyal, but they can also make it on their own.
What prop is your favorite to perform with? The sword. It's the most dramatic.
Visit belly-dancing.net or follow Authentic Belly Dancing Entertainment & Academy on Facebook to learn more about belly dancing, sign up for a class, or to find a performance near you.