Caitlin Savage, a student at Plano East Senior High School was the winner of the 2017 DART student art contest. Perhaps this year the winner will be you, your son or daughter, or someone you know. Submissions for the 2017 DART student art contest are being accepted through February 28, so, if you know a budding artist, now would be the time to give them a nudge.
Last year's winner, Caitlin, received a $1,000 cash prize and her winning art (pictured above) was displayed on the side of a DART bus traveling across the agency's 13-city service area.
Read more- Leadership Arts Institute: Become a business leader for the arts in North Texas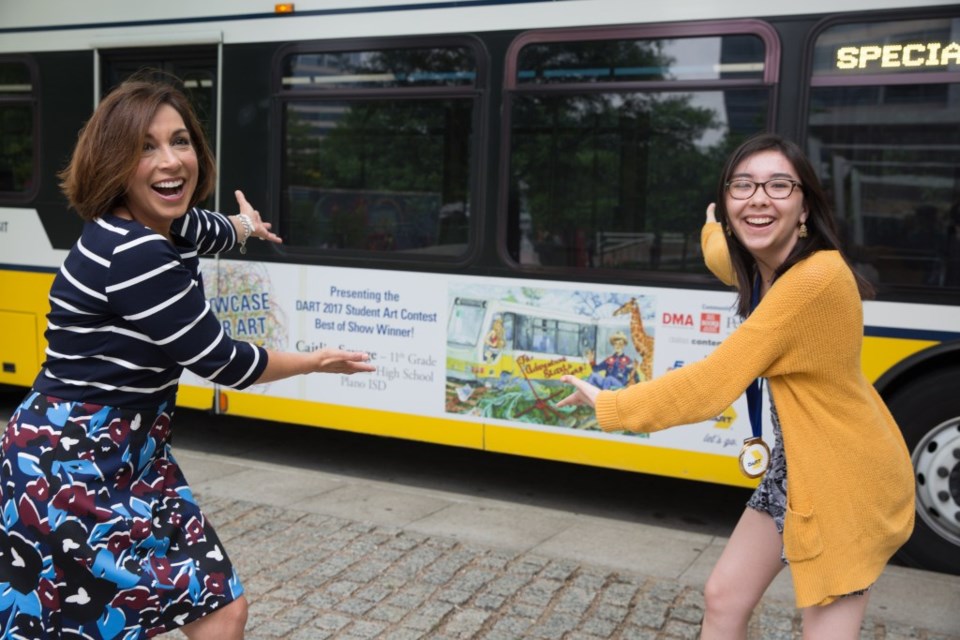 DART Annual Student Art Contest
This annual competition is open to budding artists in kindergarten through 12th grade. Their original works of art should reflect this year's theme: "Oh, The Places DART Goes." Participating students will be eligible to win great prizes, including a cash award.
A Best of Show winner will be selected from all K-12 entries. Other prizes will be awarded to first-place winners and runner-up's in different grade-level categories. In addition, winners will have their artwork featured on DART's website, and the artwork of first-place winners in the middle and high school categories will be featured at DART rail stations and inside DART trains.
Entries are due by 5 p.m. on Wednesday, Feb. 28, 2018 and should be mailed or personally delivered to:
Jessica D. Lennon
DART's Transit Education Program
2017 Student Art Contest
Dallas Area Rapid Transit
1401 Pacific Ave.
P.O. Box 660163
Dallas, TX 75266-0163
Winners will be announced by March 21, 2018, and all artwork becomes the property of DART and may be used with appropriate credit to the artist. Students who submit their artwork early will receive a special prize!
Entries must be 11-by 17-inch poster design, laid out horizontally. For complete contest details, visit DART.org/artcontest.