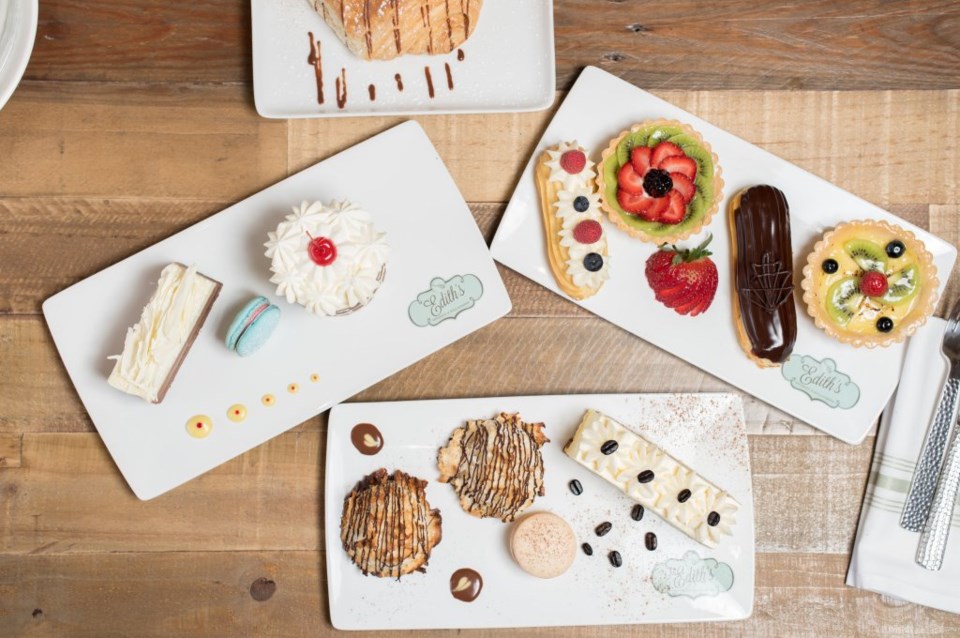 We already brought you the exciting news that The Biscuit Bar is set to open soon at The Boardwalk at Granite Park in Plano, but more exciting is that three additional restaurants are slated to open too.
Set to open this summer alongside The Biscuit Bar are B. Frank & Relish and two Dallas favorites, Pearl Cup Coffee and Edith's French Bistro. Already open at The Boardwalk at Granite Park in Plano is Union Bear which opened earlier this month, Chips Old Fashioned Hamburgers and HookLine.
The Boardwalk at Granite Park is located at the south east corner of the North Dallas Tollway and the 121. It is a beautiful waterfront dining destination where every restaurant has a patio, and the boardwalk itself is filled with colorful deck chairs perfect for lounging on a lazy day. There is even a children's play area and fire pits. The view across the water to the Hilton Hotel at Granite Park in Plano is simply stunning. According to a press release from Granite Properties negotiations are underway for the area's eighth and final eateries, set to open by the end of 2018.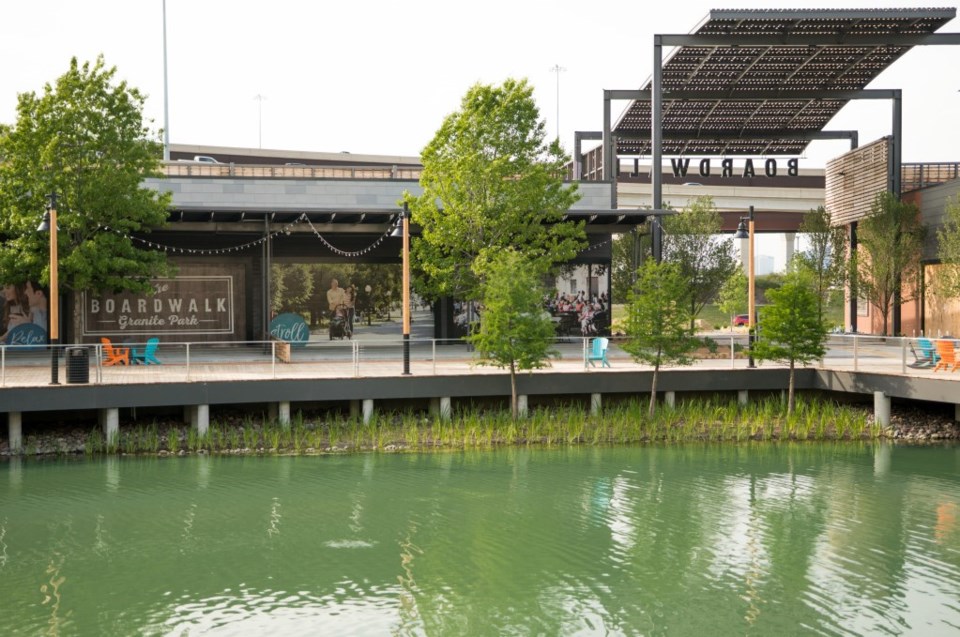 The four new restaurants coming to The Boardwalk at Granite Park
B. Frank & Relish, a new concept to debut at The Boardwalk, will be housed in a 2,230 square foot of interior space with a 1,323 square foot patio. B. Frank & Relish has an eclectic menu in a rustic environment offering a wide range of bar food and salads, using quality ingredients, some locally sourced, featuring a wood fire grill for the whole family to enjoy. Menu offerings include grilled artichokes, gourmet salads, B. Famous Wings with chipotle sauce and seared hanger steak with soy ginger glaze. The food is paired with local and regional craft beer, cocktails and uniquely sourced wines tapped right off the barrel.
The fast casual, The Biscuit Bar, a new Southern home-style concept, will launch at The Boardwalk spanning 2,223 square foot of interior space and a 1,303 square foot of patio space. The Biscuit Bar offers high quality and quick service featuring scratch biscuits with a wide range of toppings. Menu items include Biscuit & Egg, Buffalo Blue Chicken Biscuit, Charcuterie Biscuit and the Monte Cristo. The restaurant also serves salads with biscuit croutons, biscuit deserts and a bar menu with cocktails.
Edith's French Bistro will open a 7,616 square foot interior space and a 2,782 square foot patio space offering French baked goods like viennoiseries (light and fluffy pastries with a hint of sweetness) and patisseries as well as a full breakfast, lunch and dinner featuring French dishes including crepes, duck confit tartine, garden nicoise salad, roasted lamb and short rib poutine.
Pearl Cup Coffee will offer Texas roasted espresso drinks, coffee, snacks, pastries and serve wine and bites in the afternoons through the evening. It will occupy 1,301 square foot interior space with a patio of 760 square foot.
Read more: What to expect from The Biscuit Bar
Already open at The Boardwalk at Granite Park
Chips Old Fashioned Hamburgers, the legendary Dallas favorite serving build-your-own burgers, fries, sandwiches, Tex Mex, salads, milkshakes, desserts and cocktails for Happy Hour, occupies a 4,164 square foot interior space and a 1,851 square foot patio.
HookLine occupies a 3,200 square foot interior space and a 1,000 square foot patio with seating for 200 people. It offers Cajun and Southern Comfort inspired dishes the chef calls Gulf Coast Low Country.
Union Bear, (formerly in Dallas' West Village) occupies 7,250 square foot of indoor space and a 3,000 square foot patio. Plano's first independent brewpub and restaurant is now serving lunch at 11am and dinner beginning at 4pm. Inspired by the West Coast casual beer approach, onsite brewers craft Union Bear's signature line of brews as well as 33 featured taps, whiskies and wines. Chef Sean Sanders leads the kitchen with a menu of his take on American pub fare.
Read more: Tacodeli is coming to Plano
"We're thrilled with such a wide range of restaurants coming to The Boardwalk at Granite Park to deliver a great experience and a top food destination for our customers and the growing population in North Dallas and Collin County," said Will Hendrickson, Managing Director, Granite Dallas. "Initially we planned to offer six restaurants but we split two spaces to have more diversity and culinary creativity. From morning to night, people will be able to enjoy their breakfast, lunch and dinner or unwind for weekend brunch or happy hour at this cool and unique waterfront," he added.