Big revitalization plans have been underway for several years in Ennis, TX. But just last week, the City Commission approved a 5-year community improvement plan. And it's pretty impressive. The recent 5-year timeline and official release have outlined the most prominent and active building projects to redefine Ennis even further:
_
Minnie McDowal Park
Performance gazebo, climbing sculptures, Wi-Fi, art-wall, water feature, seating and public restrooms
Will be activated several nights a week with live music, open mic nights, movies etc.
Location of the Plaza Theatre owned by Lee Roy Mitchell who went on to start Cinemark
The park is named after the theatre's longest standing and most beloved employee, Minnie McDowal
Grand opening ceremony Saturday, September 16th.
Welcome Center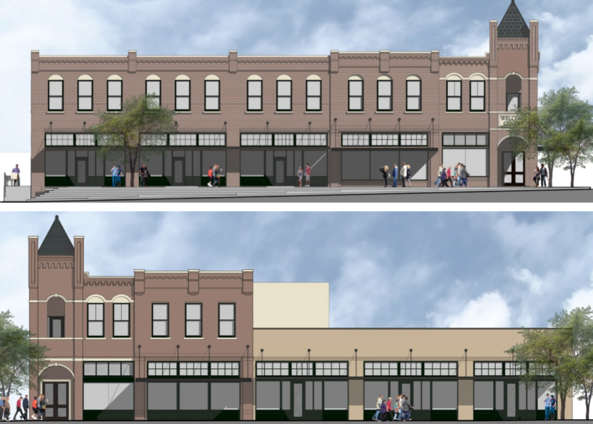 One and a half story Welcome Center in the heart of downtown
Will house the welcome center, EcDev team, City Inspection Team, Chamber of Commerce, event space with rooftop patio, 4 retail incubators and restaurant
Currently working with Architexas on floor plan
Fire Station 3
New Fire Station to house the additional firefighters acquired through the SAFER grant
Will reduce response time to northern and westward areas of our city
Will enhance ISO/PPC ratings (lower ISO rating for the City typically yields lower insurance premiums
Fire Station 1 will be a separate project to be completed in 2021
North Plaza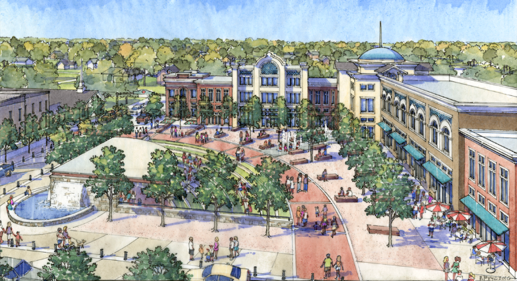 Provides public gathering space with amphitheater and water feature
Home to the new City Hall, Municipal Court and Police Station
In final discussions with private investor
Downtown Infrastructure/Dallas St.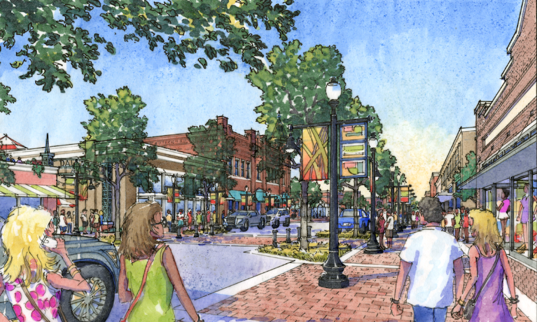 Replacement of 100-year-old water and sewer and installing grease traps to create the foundation to support the new retail/residential growth and development
Dallas St. will be converted into a scenic boulevard which connects the two sides of downtown
Tree-lined, beautiful red brickwork, flower planters, widened sidewalks
Additional infrastructure projects include street improvements, wastewater treatment improvements and more
South Plaza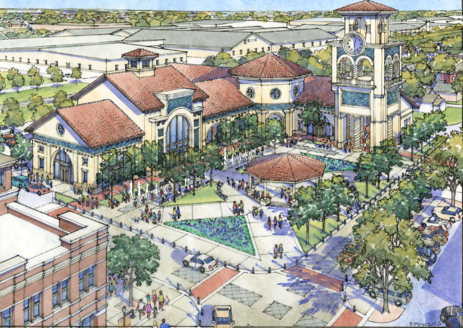 Provides public gathering space with large gazebo
Residential on the second story and retail/dining on ground level
Splash Pads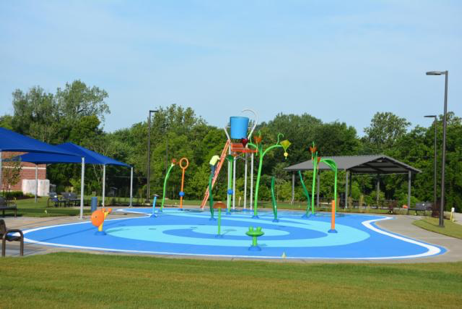 Splash pads and associated features at Jaycee and Lions Park
6 additional park projects include equipment replacement, bathroom facilities, ballpark improvements and more
Downtown Underpass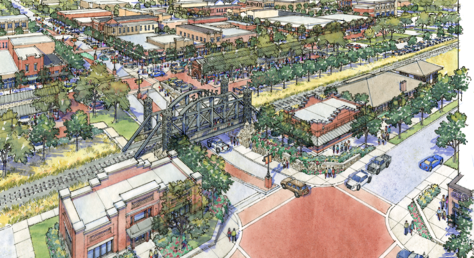 Aesthetically-pleasing trestle bridge on Ennis Avenue that will allow the train to pass overhead, relieving road congestion and also creating a landmark in Ennis
Connects IH45 Market to Downtown Market
Currently in engineering
Replacement Airport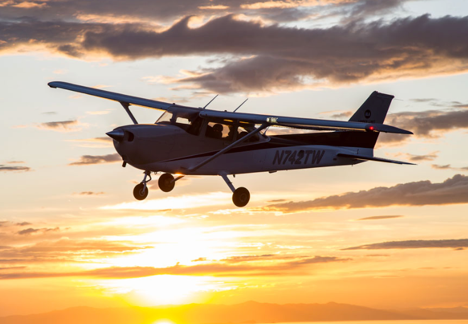 New airport to replace existing 1964 airport
Will yield new opportunities and can also generate revenue from a variety of sources (e.g hanger leases, fuel sales and events).
Other Projects and Programs
Rebranding

Working with Chandler Thinks, a very reputable destination branding agency out of Tennessee, to rebrand the city
Conducting focus groups, 30 key stakeholder interviews and full tour of Ennis
Brand story, logo, tagline, brand guidelines and brand launch video
The new brand reveal will help us attract visitors, investors, new residents and will give current residents a proud story to stand behind/promote

Residential

Two full market rate AA & AAA quality apartments are in progress
Single family residential permits have tripled over the last few years

Retail

Starbucks and Chipotle recently completed
Arby's, Popeyes, Steak and Shake and other confidential retailer coming in 2017-18

Grant Program

Very successful Historic Preservation Grant and Façade Grant program implemented downtown
Investment is $2.2MM public and over $10MM private