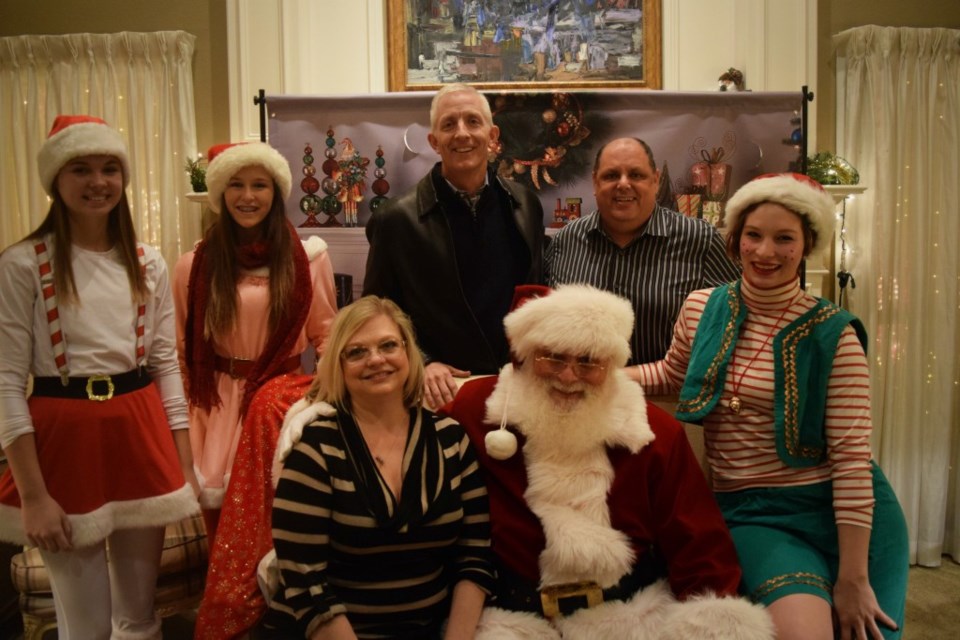 Deerfield, a neighborhood in Northwest Plano is a well-known holiday destination for Dallas Fort Worth residents, but it's not all about Christmas lights. This year a collaboration between the Zephries family and At Home, the home decor superstore, brought the giving spirit of Christmas alive at this popular Plano holiday attraction.
At Home gives to the Zephries
Over the years, Scott Zephries, has garnered national attention around his light display that includes more than 100,000 bulbs synchronized to music. Zephries began his annual holiday light show 10 years ago following the passing of his father, and has continued to make it bigger and better each year.
When At Home®, the home decor superstore headquartered in Plano, caught wind that Zephries was thinking about forgoing his holiday light display this year, they immediately stepped in. They sent a team to put up the lights and are also footing the bill for the electricity to keep the lights shining bright all month long.
"We were heartbroken to hear Scott wasn't planning on putting up his famous holiday display," said Lee Bird, CEO of At Home. "Our first instinct was to work together as a company to ensure the light show went on. At Home believes in strong family values and tradition, and this was the perfect opportunity to showcase our commitment to our local community."
"I'm grateful to At Home for their generous support," Zephries said. "I know this year's visitors will be delighted by our festive display as they are every year. We're glad to be able to partner with a local company to keep our community holiday tradition alive."
At Home and the Zephries give back
As part of the lights display, the Zephries home has become a drop off station for a number of local nonprofits. Passersby are encouraged to leave a monetary donation or new, unwrapped toys for the DFW Metroplex Toys for Tots or non-perishable food and donations for the North Texas Food Bank at drop stations located outside of Zephries' home.
Photo Op with Santa!
In addition, visitors to the home can snag a free photo with Santa this weekend—Friday, Dec. 18 through Sunday, Dec. 20 from 7:00 p.m. to 10:00 p.m. each evening.
Read on for all the details, to help you get the most from your visit to the Lights at Deerfield.
The Lights at Deerfield
Where: The Deerfield neighborhood, located in northwest Plano between Preston Road and Coit Road
When: December 1–30, 7–11 p.m.; closed Christmas Day
Driving tips: Enter from Legacy Drive on Colonnade Drive or Archgate Drive, noting one-way and restricted-turn signs along Old Pond Drive and Hallmark Drive. RED and BLUE routes are suggested main thoroughfares; be sure to visit side streets and cul-de-sacs along these routes. Use Quincy Lane or Legacy Drive to connect both routes. Watch all signs and drive carefully.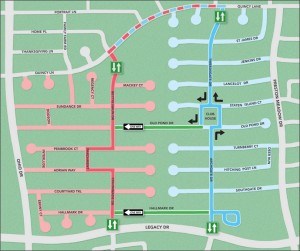 Click the map to enlarge and print it. Click here for a link to detailed written directions to help you navigate through the neighborhood.
Walking tips: If you decide to walk the neighborhood, please park north of the Clubhouse on a less busy street.
Holiday carriage rides: Reservations are highly recommended for holiday carriage rides, provided by North Star Carriages. The multi-passenger carriages and wagons range in size from 4 to 20 seats. Walk-ups will be accepted, but reserve online to avoid disappointment.
Horse-drawn carriage rides take 50–55 minutes. Thirty-minute rides on smaller 2–6 passenger carriages may also be available on-site for walk-ups. Blankets and holiday music will be provided, or bring your own; you may also bring hot cocoa or other beverages. All rides are weather-permitting.
Days: December 1–30; closed Christmas Day
Times: 6–11:30 p.m.
Where: Carriage rides begin in the Legacy Church parking lot, 4501 Legacy Dr. at Preston Meadow.
Cost: From $145 for up to 6 passengers to $250 for up to 20 passengers. Click here for details on carriages and prices.
Segway tours: McKinney Segway Tours will conduct Segway tours on Fridays, Saturdays, and Sundays starting December 4, through December 24. The cost is $30 per person and includes training and helmets. Closed-toe shoes are required. Reservations are recommended; walk-ups will be accepted if space is available. Segway tours will meet at Bettye Haun Elementary School at 4500 Quincy Ln., and start on the hour from 6–9 p.m. Reserve here.
Voting: Vote on your favorite decorated homes by sending a text to 469.200.4699. Just remember what street you're on, and when you're ready to vote, text the letter corresponding to one of the four categories, followed by the street address.
Categories:
A—Best Overall
B–Most Traditional
C–Children's Favorite
D–Funniest
For example, to vote for 1222 Main St. as Funniest, text D-1222 Main.
At Home
At Home, the home decor superstore, is focused on providing customers with the broadest assortment of home decor products for every room, in every style at everyday low prices. With a wide assortment of more than 50,000 SKUs throughout our stores, At Home enables customers to express themselves and create a home that reflects their personality and style, in ways big and small. Founded in 1979 in Garden Ridge, Texas, At Home is headquartered in Plano, Texas.